This mini egg cheesecake is the simplest Easter dessert you're likely to find. My ten year old son created this cheesecake showing that anyone can make it!
We use it as a basic recipe to add whatever fillings we like.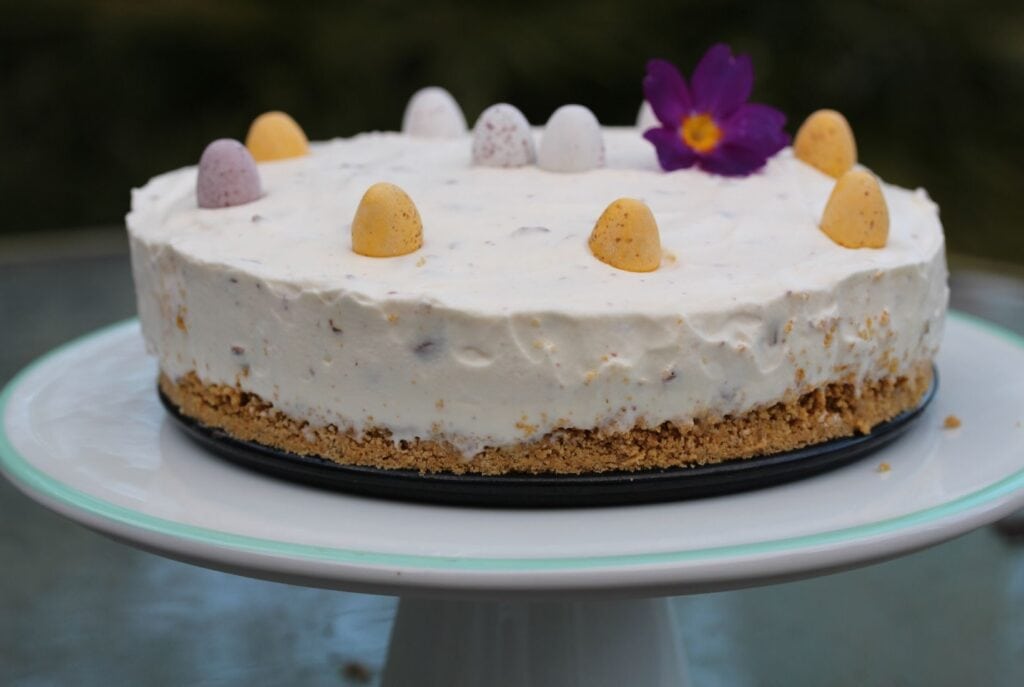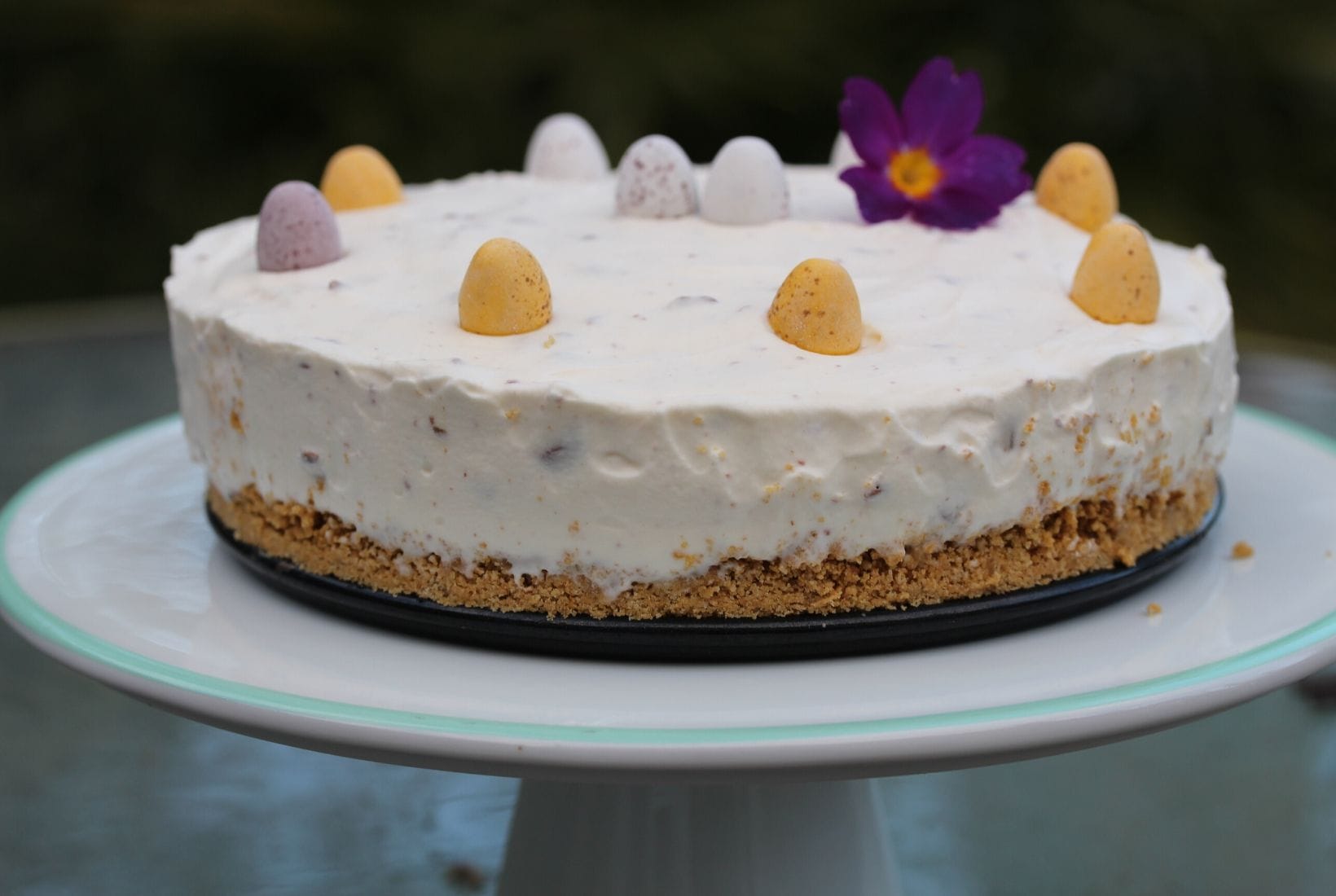 This cheesecake recipe is based on an old favourite that I made in home economics class with Mrs Weekes back in the late 80's.
It has never failed me and is a lot less indulgent than many similar recipes you'll find.
We use the basic recipe to create any flavour of cheesecake that we desire. In fact, it has become such a favourite recipe here that the kids often hold competitions. Who can design and make the best cheesecake.
I have to say, I do really love those competitions!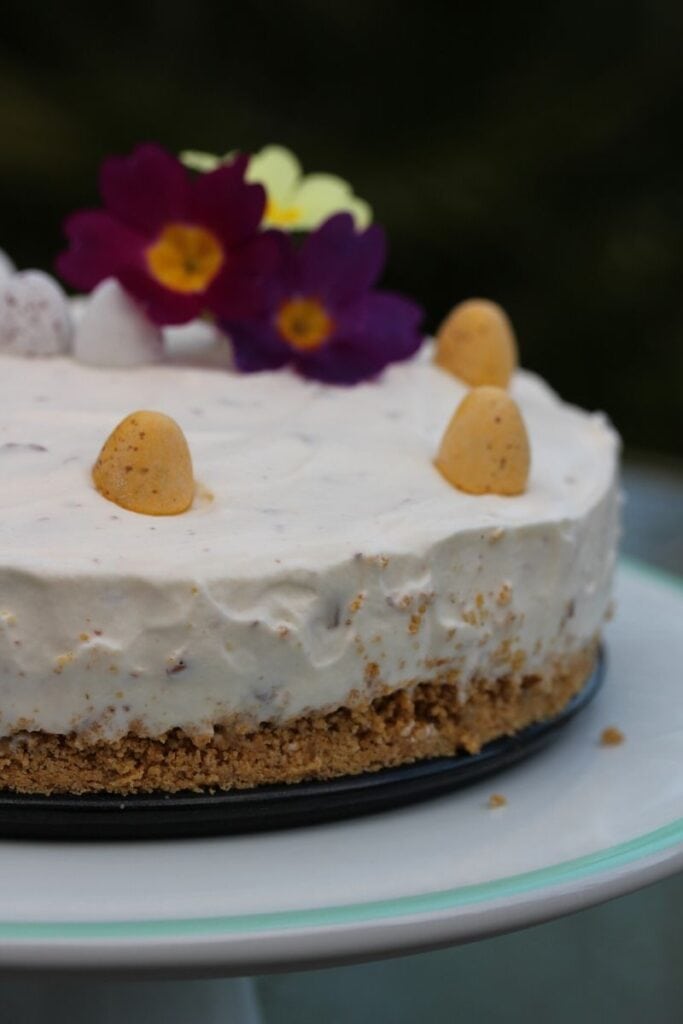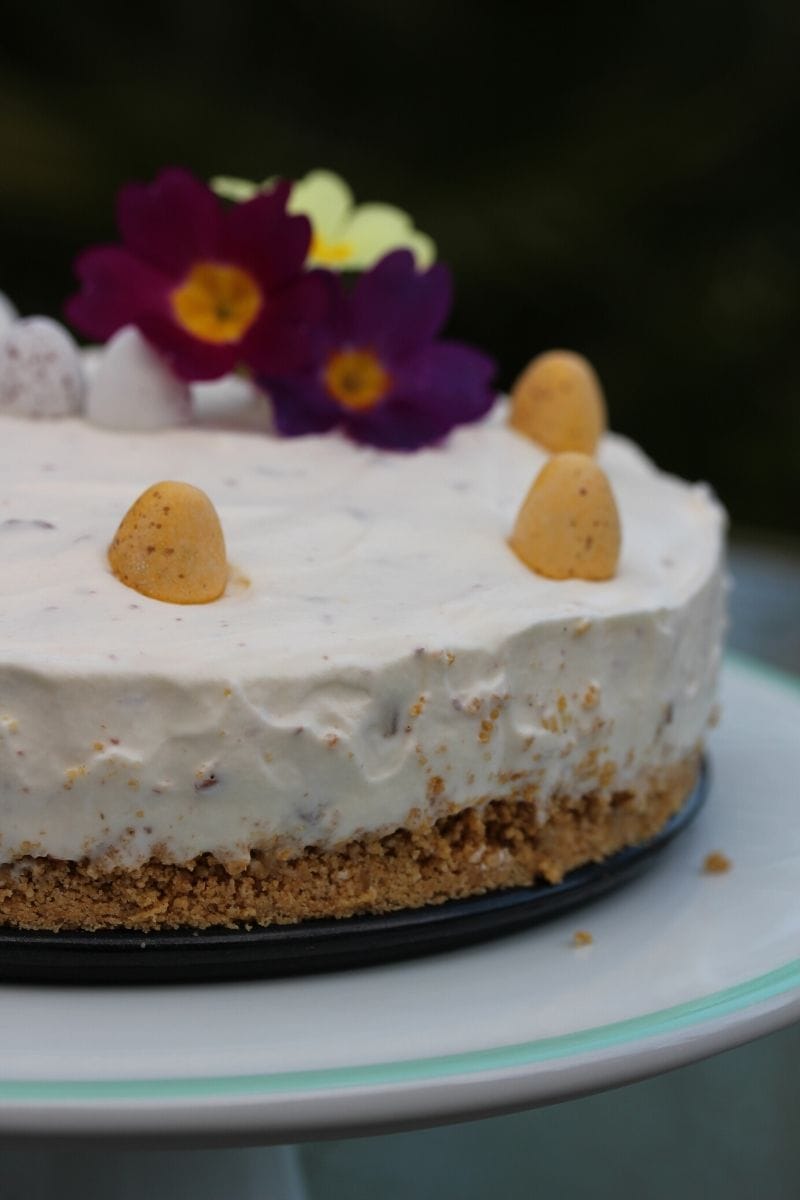 Cheesecake variations
The basic proportions of cream cheese to cream can be used to create a huge array of delicious no bake cheesecake flavours.
Here are just some of the cheesecakes that the children have created over the last six months:
Salted caramel (using a tin of Carnation caramel swirled through the topping)
Toblerone
Fudge (using Askeys Treat toffee sauce and fudge pieces)
Chocolate orange (melting chocolate and stirring it through the topping)
Lemon (using the zest and juice plus some sugar or lemon curd)
If you're using a sweet filling you won't need to add the sugar. We only added a bit of sugar to the mini egg cheesecake to sweeten the topping a little bit, before adding the crushed mini eggs.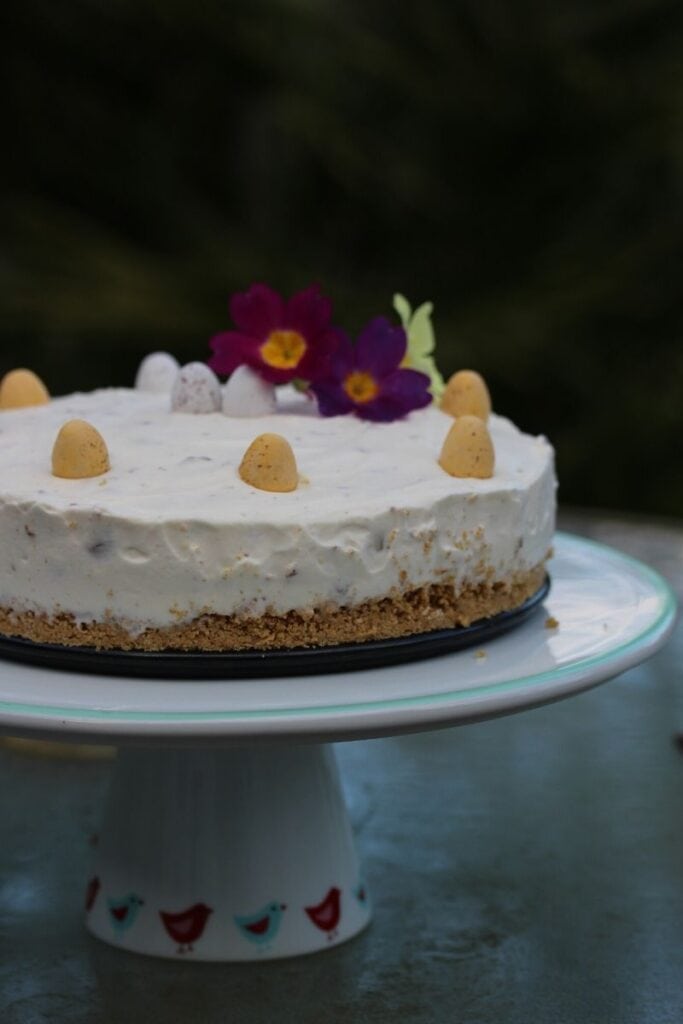 Tips for making a no bake cheesecake
This mini egg cheesecake can be made with double cream or whipping cream. If you like a lighter cheesecake then I recommend using whipping cream. If you like a richer, more dense cheesecake then use double cream.
The important thing to remember when making no bake cheesecake is to not over-whip the cream.
Whichever type of cream you use don't whip it beyond soft peaks, but make sure you don't under-whip it either.
If you over-whip the cream the cheesecake topping will be too firm. If you under-whip it you'll end up with a sloppy mess!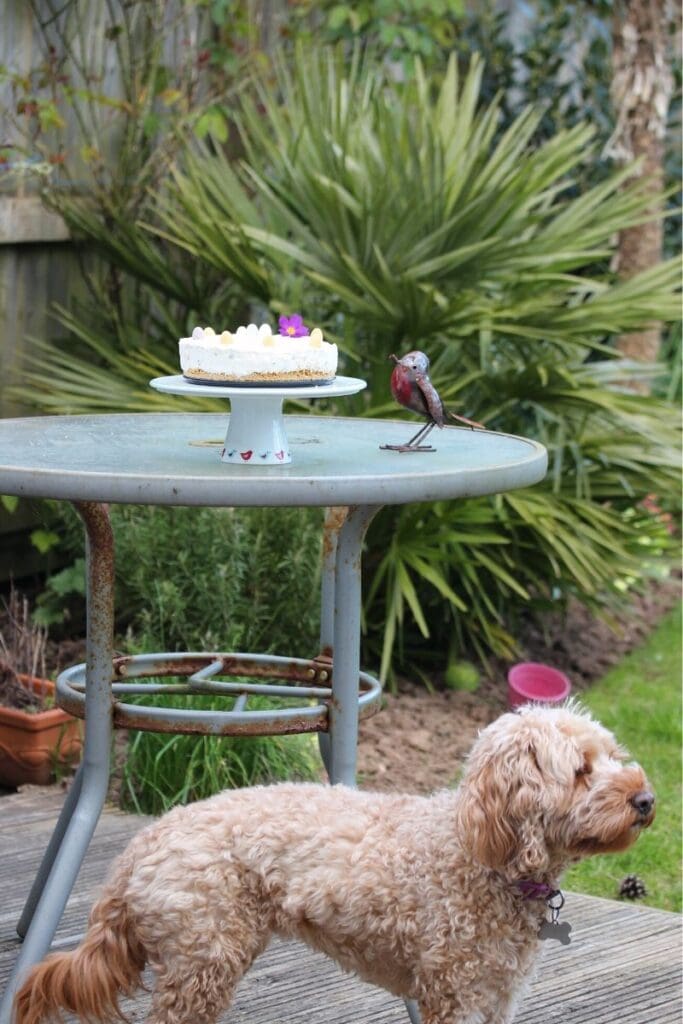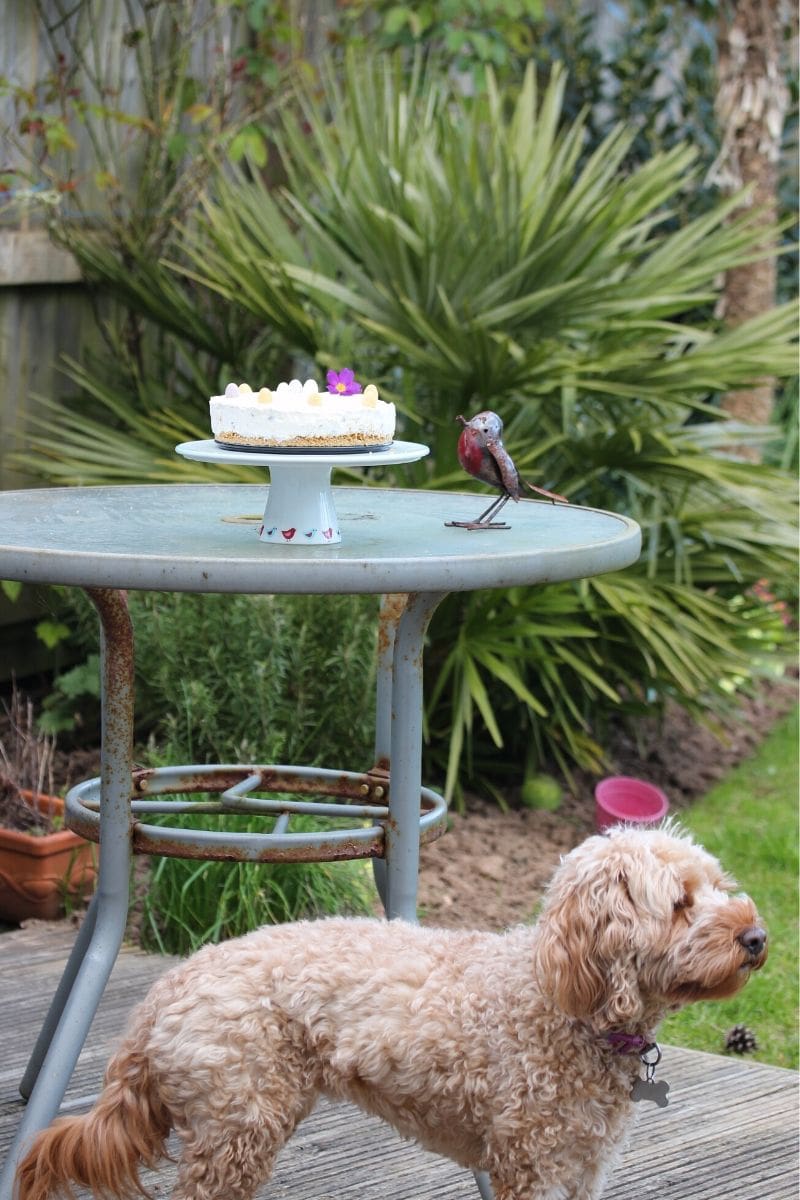 Easter recipes
If you like this recipe and are looking for more gluten free Easter treats then I've created a downloadable book just for you.
In it you'll find recipes for gluten free chocolate hot cross buns, Easter biscuits, homemade chocolate truffles, vegan hot cross buns, special breakfasts, indulgent desserts, homemade gift ideas and lots more.
You can buy your copy right here…
Other gluten free cheesecake recipes
If you like this recipe and would like to check out some of my others then you're in luck.
I've got this wonderful gluten free vegan chocolate cheesecake…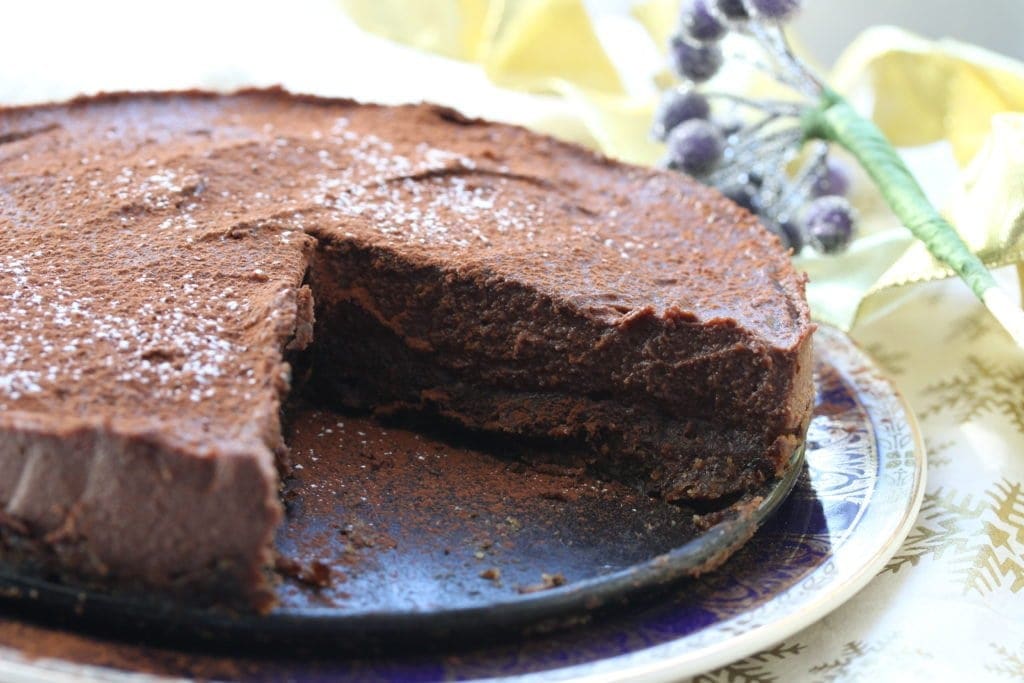 Or this gluten free vegan lemon cheesecake…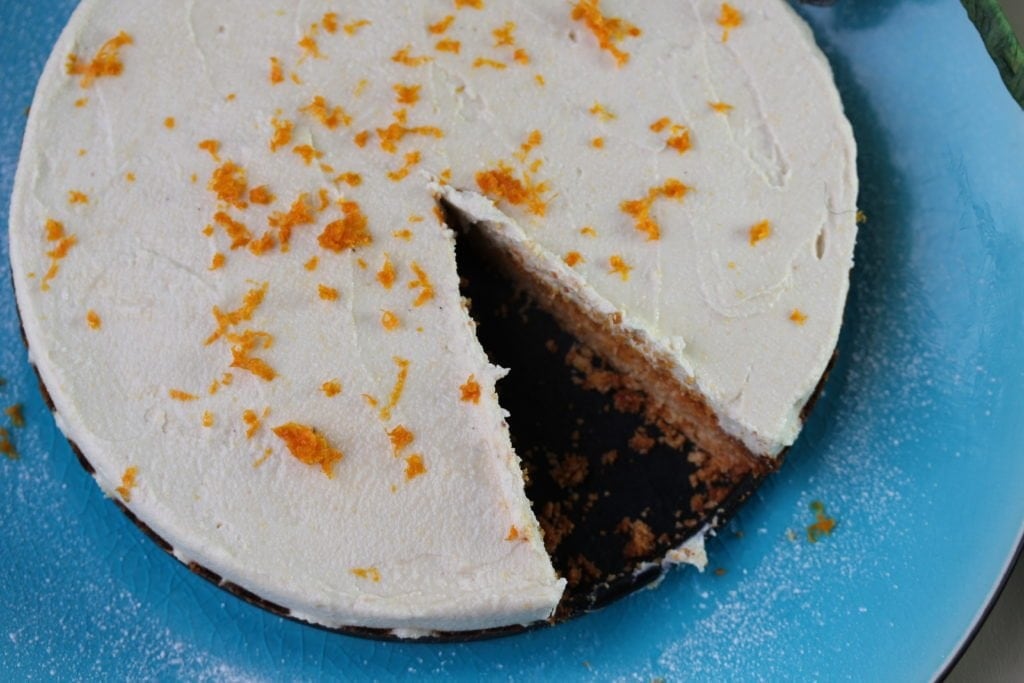 Or how about my no bake chocolate cheesecake with a cake (yes cake!) base…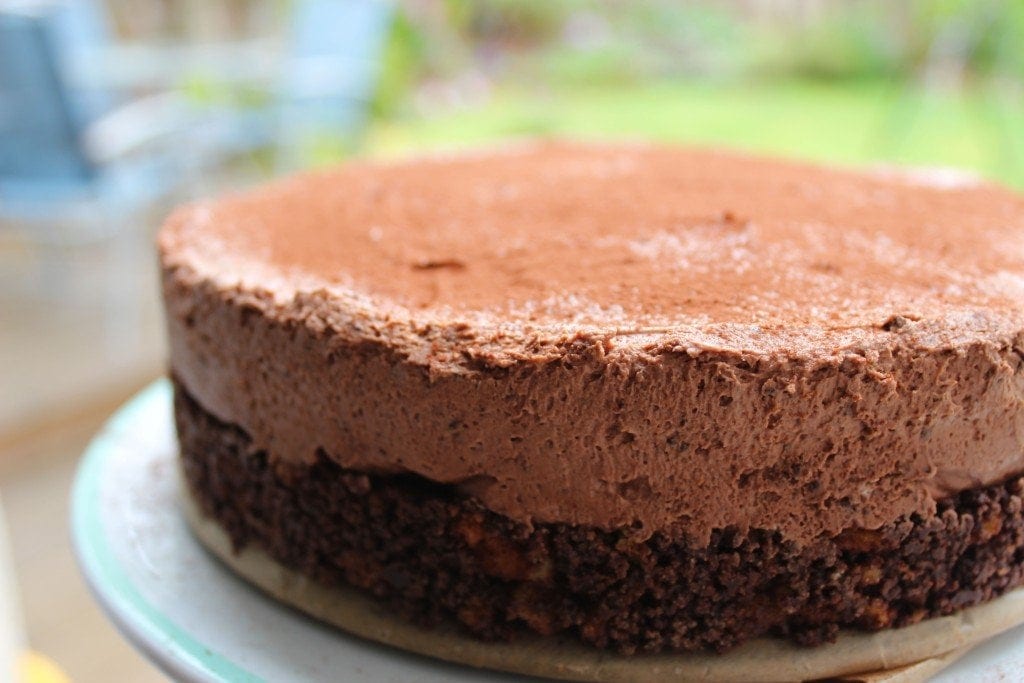 Healthier individual raw chocolate cheesecake…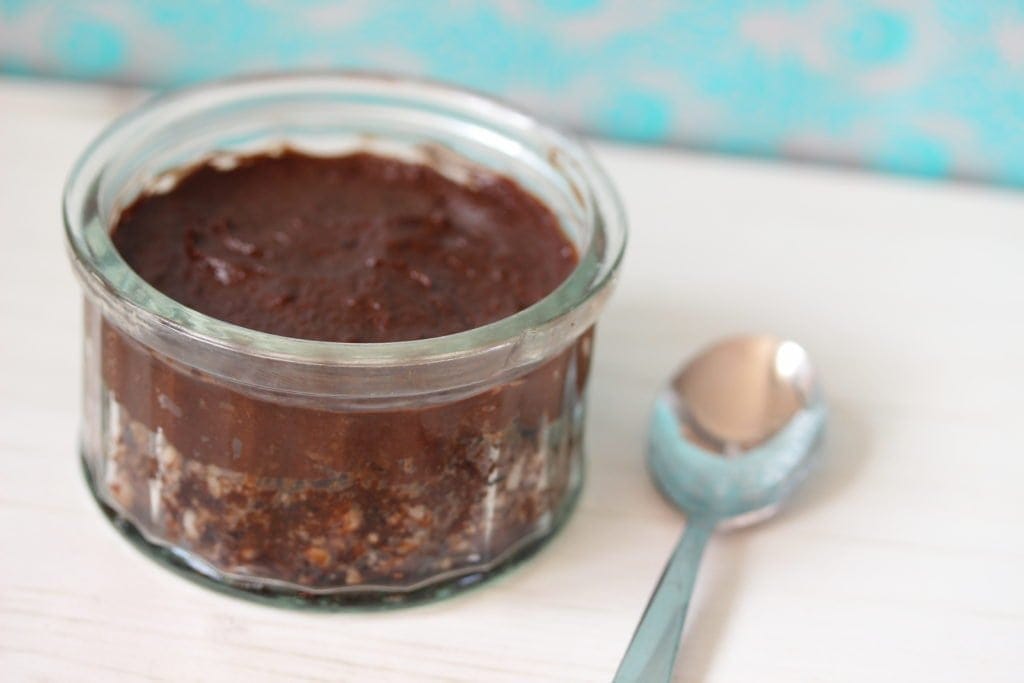 Have you guessed yet?
I love cheesecake.
If you love this recipe check out my free recipe e-book:
Pin the recipe so you don't lose it: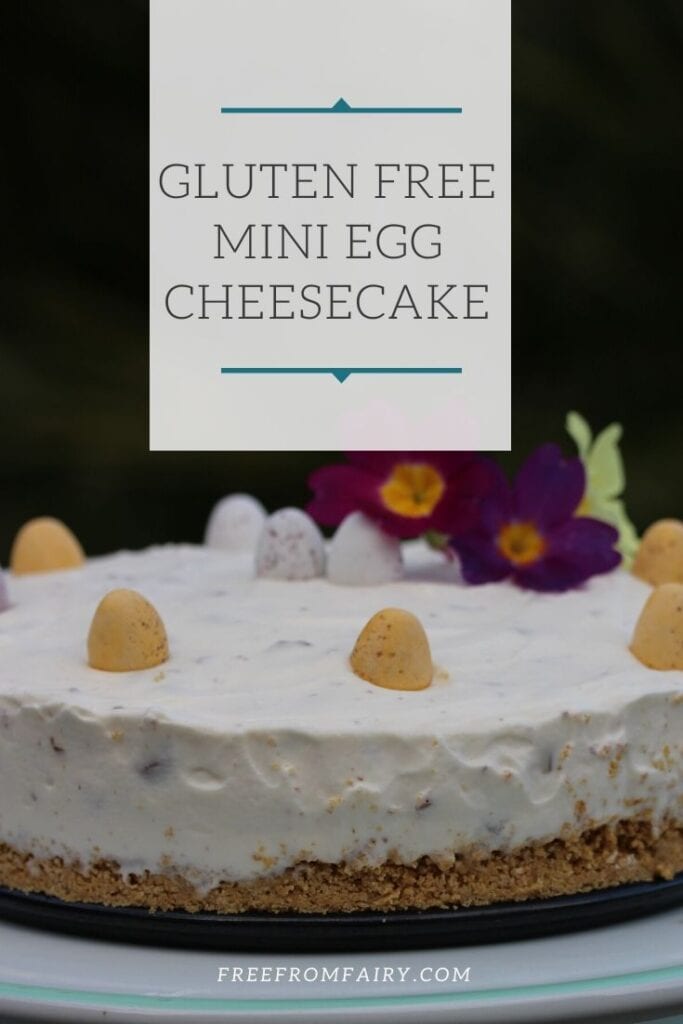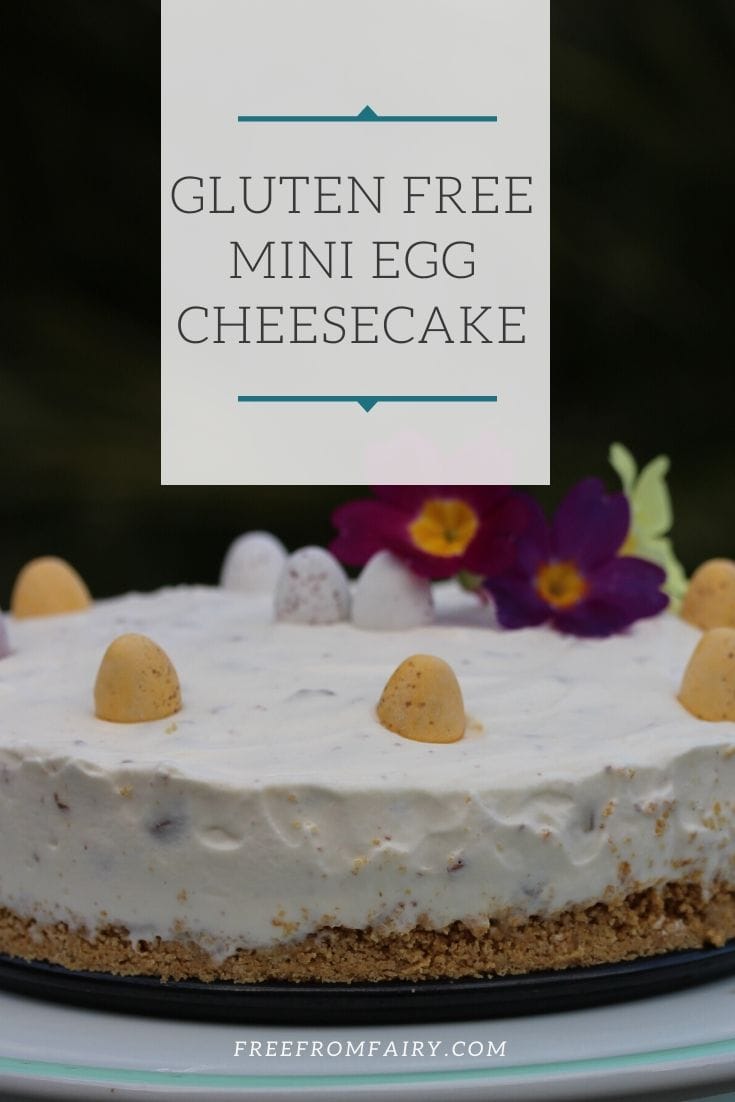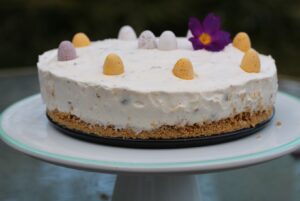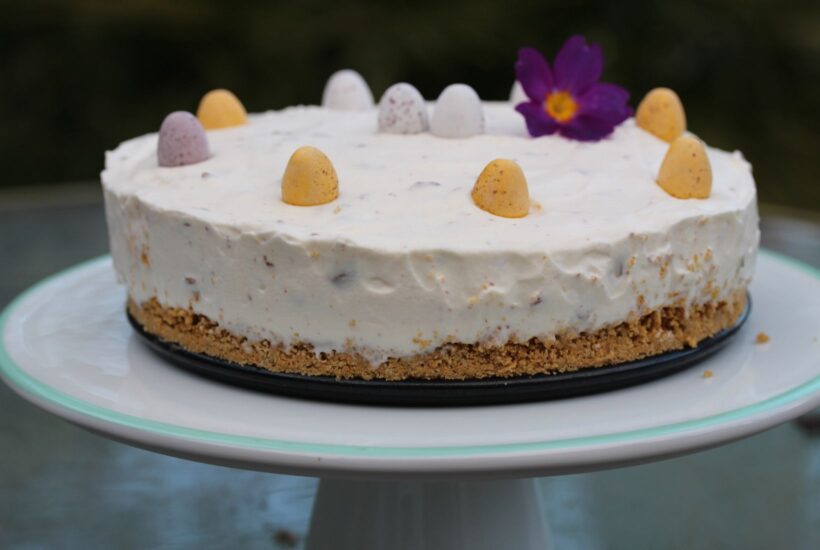 Mini Egg Cheesecake
A gluten free mini egg cheesecake that is the perfect #Easter dessert. #glutenfree #freefromfairy
Ingredients
For the base
160

g

Digestive biscuits

-

(gluten free)

60

g

Butter
For the topping
300

ml

Whipping cream

-

or double cream

200

g

Cream cheese

50

g

White sugar

2

tsp

Vanilla extract

160

g

Chocolate Mini Eggs

-

(2 small bags)
Instructions
Make the base by either crushing the biscuits in a bag with a rolling pin, or by pulsing them in a food processor

Melt the butter, either in a pan or in the microwave and stir it into the crushed biscuits

Press the mixture into a 20cm diameter spring-form cake tin and place in the fridge to set while you make the topping

Pour the cream into a large bowl and whip until it forms soft peaks

Fold the cream cheese, sugar and vanilla extract into the cream

Retain approx. 12 mini eggs for decoration (of course you could use more than this if you wanted). Crush the remaining eggs (I used my pestle and mortar but you could put them in a bag and bash them with a rolling pin again)

Fold the crushed mini eggs through the topping mixture then spoon it onto the top of the base and smooth over

Chill in the fridge for at least an hour, or until set
Notes
Nutrition data for information only
Nutrition (Approx)
Calories:
386
kcal
|
Carbohydrates:
28
g
|
Protein:
4
g
|
Fat:
29
g
|
Saturated Fat:
17
g
|
Cholesterol:
78
mg
|
Sodium:
207
mg
|
Potassium:
72
mg
|
Fiber:
1
g
|
Sugar:
20
g
|
Vitamin A:
901
IU
|
Vitamin C:
1
mg
|
Calcium:
77
mg
|
Iron:
1
mg