These oat free flapjacks were created in response to a reader wanting a flapjack she could eat when avoiding oats. With a little tweak they can be made suitable for those on a paleo diet too.
This post contains Affiliate links. As an Amazon Associate I earn from qualifying purchases.
The story behind these oat free flapjacks
As I sit at my laptop typing this I am eating my latest soup.
Soup is something that I never blog the recipe for. In my head it is the simplest thing in the world and I never follow a recipe to make it. Instead I opt for the 'chuck it all in and see how it turns out' approach. I also can't abide the thought of eating cold soup and therefore no photographs ever get taken!
Today's is particularly good. Creamy and rich with a beef bone marrow and chicken stock base, cauliflower, courgette, red pepper and carrot. It must contain almost all of my '5 a day' and is deeply satisfying.
Now last week (or was it the week before…where does time go?!), a reader made my very popular banana and date flapjack recipe using rice flakes since she cannot tolerate oats.
Now, you all know how I feel about rice but I know how many coeliacs also cannot tolerate oats (Roo couldn't for a while). So whilst in a Twitter conversation with said reader, Elizabeth Price, I decided to commit to making a 'flapjack' recipe without oats.
In fact, whilst I sat and typed, inspiration struck and at 9pm I raced to the kitchen to create them (missing the start of Jonathan Strange I may add!).
Within 30 minutes I had the resultant treats and the house smelt divine!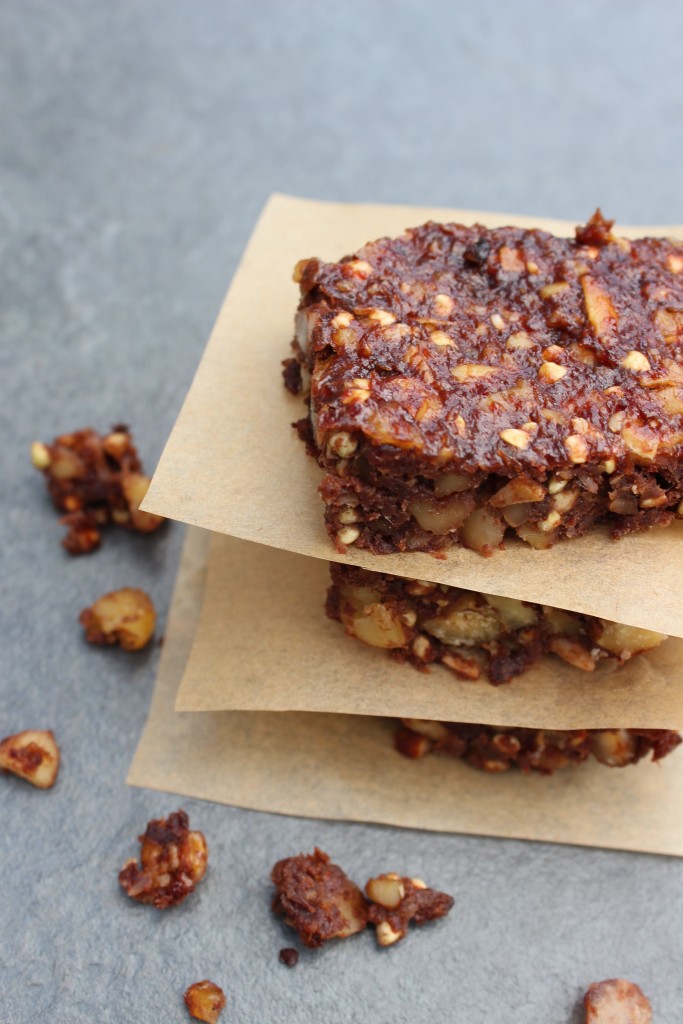 I promised Elizabeth I would share the recipe as soon as possible so here it is! An extra one for you this week!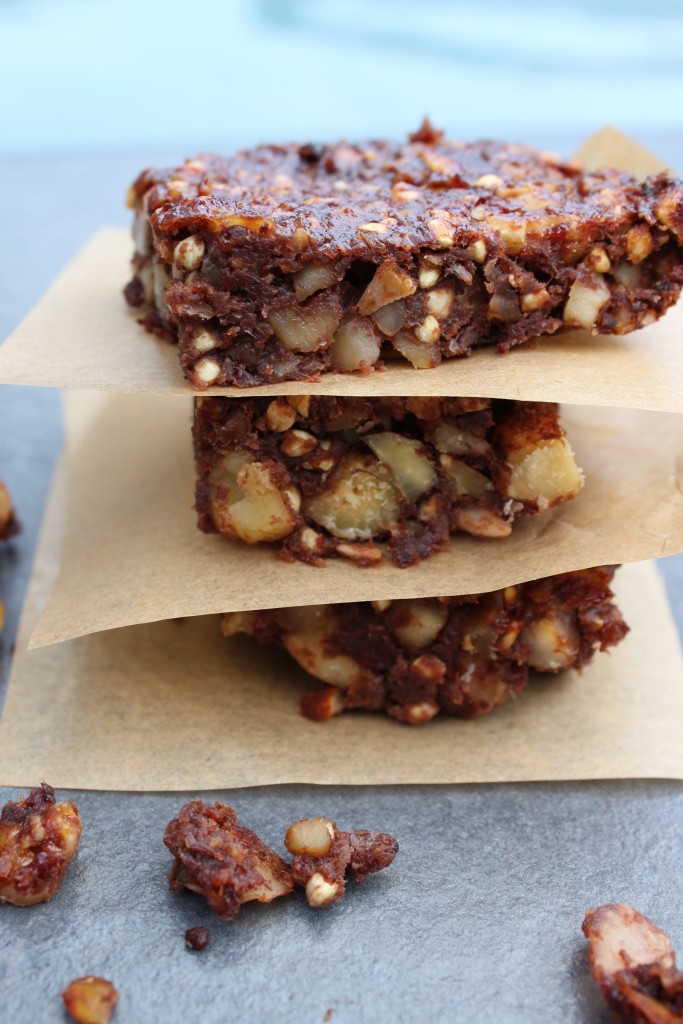 Although not really a flapjack (well…you can't call something with no oats a flapjack), it is flapjack like.
These oat free flapjacks got the thumbs up from everyone who tried them and they didn't last too long.
I would suggest keeping them in the fridge in the warm weather.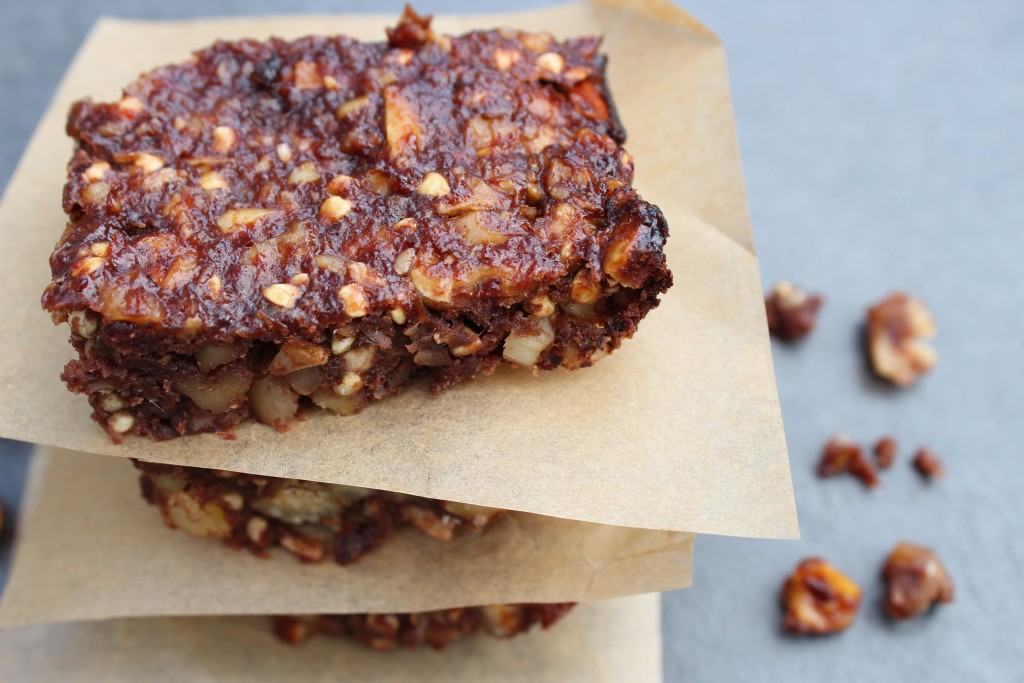 Pin the recipe for future use
And as always, if you make them please share photos on your favourite social media site with the #freefromfairy. I love to see my recipes being used.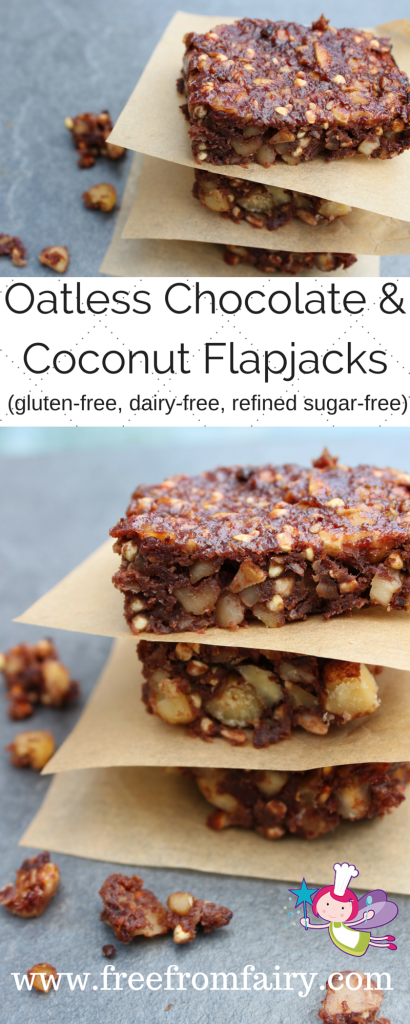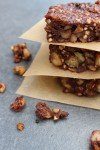 Oat Free Flapjacks (Gluten-free, Dairy-free, Egg-free, Refined Sugar-free, Soya-free, Paleo option)
Gluten-free, Dairy-free, Egg-free, Soya-free, Refined Sugar-free
Ingredients
200

g

nuts

of your choice

115

g

ripe banana

roughly chopped

55

g

coconut oil

melted

1

tbsp

cacao powder

or cocoa

1

tbsp

honey

or more to taste. You could use maple syrup if you're vegan

50

g

buckwheat

the whole groats OR if paleo replace with same quantity of nuts

20

g

coconut flakes

or desicated coconut if you don't have the flakes
Method
Place the nuts into a food processor or hand held chopper and whizz until coarse...or continue until fine depending on the texture you want to have

Add the banana, melted coconut oil, cacao and honey and whizz until combined

Transfer the mixture into a clean bowl

Finally stir the buckwheat groats and coconut flakes (or desicated coconut) into the mixture

Press into a greased or lined tin measuring approx. 25cm x 15cm and bake in a pre-heated oven at 200 degrees (180 degrees fan, gas mark 6) for approx. 20 minutes or until golden
Recipe Notes
Nutrition data for guidance only
Nutrition Facts
Oat Free Flapjacks (Gluten-free, Dairy-free, Egg-free, Refined Sugar-free, Soya-free, Paleo option)
Amount Per Serving
Calories 268
Calories from Fat 198
% Daily Value*
Fat 22g34%
Sodium 4mg0%
Potassium 253mg7%
Carbohydrates 17g6%
Protein 6g12%
Vitamin A 10IU0%
Vitamin C 1.2mg1%
Calcium 18mg2%
Iron 1.3mg7%
* Percent Daily Values are based on a 2000 calorie diet.