Make this simple cookies in a jar gift any time of year, but with Christmas fast approaching it makes a perfect cheap and thoughtful present.
This post contains Affiliate links. As an Amazon Associate I earn from qualifying purchases.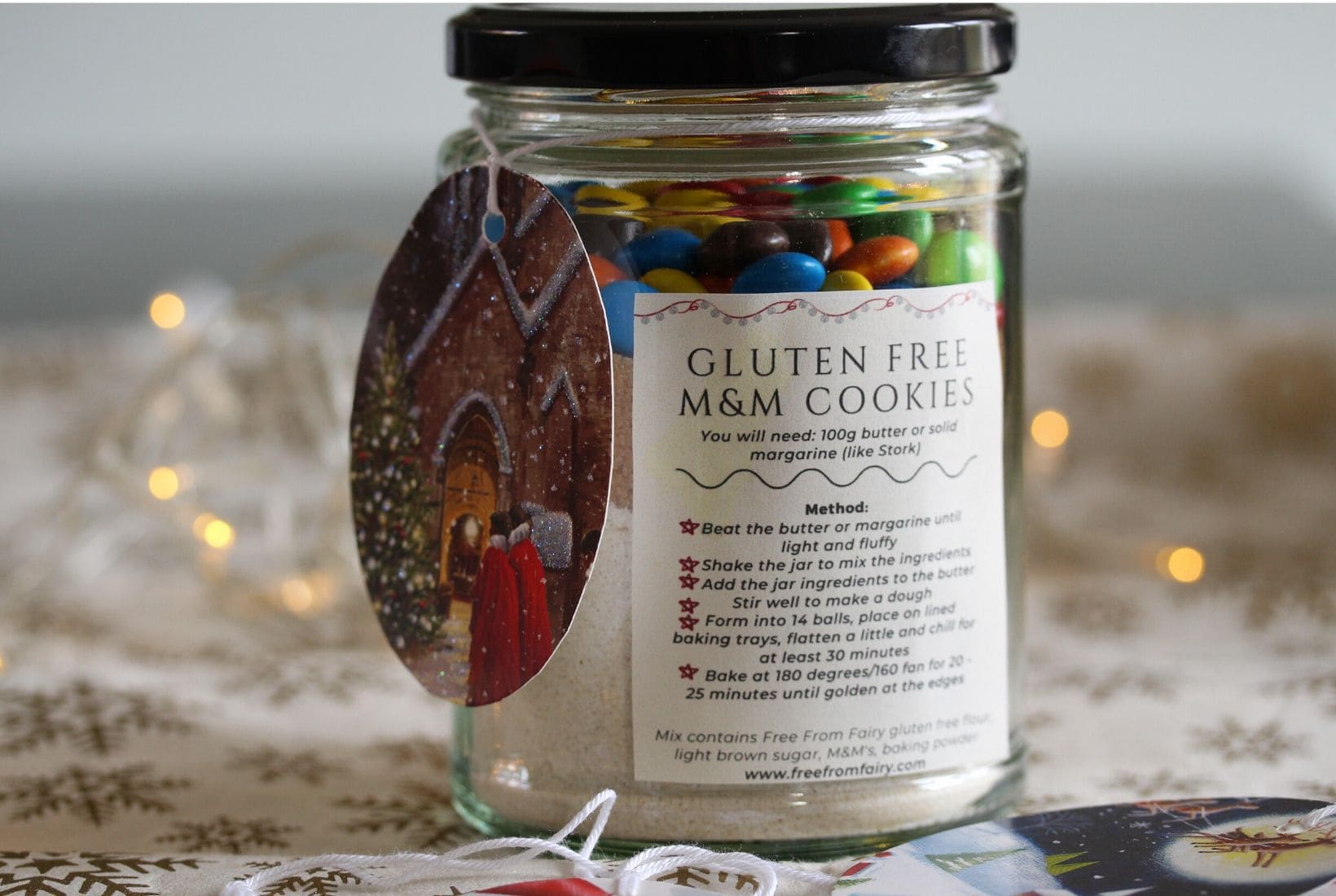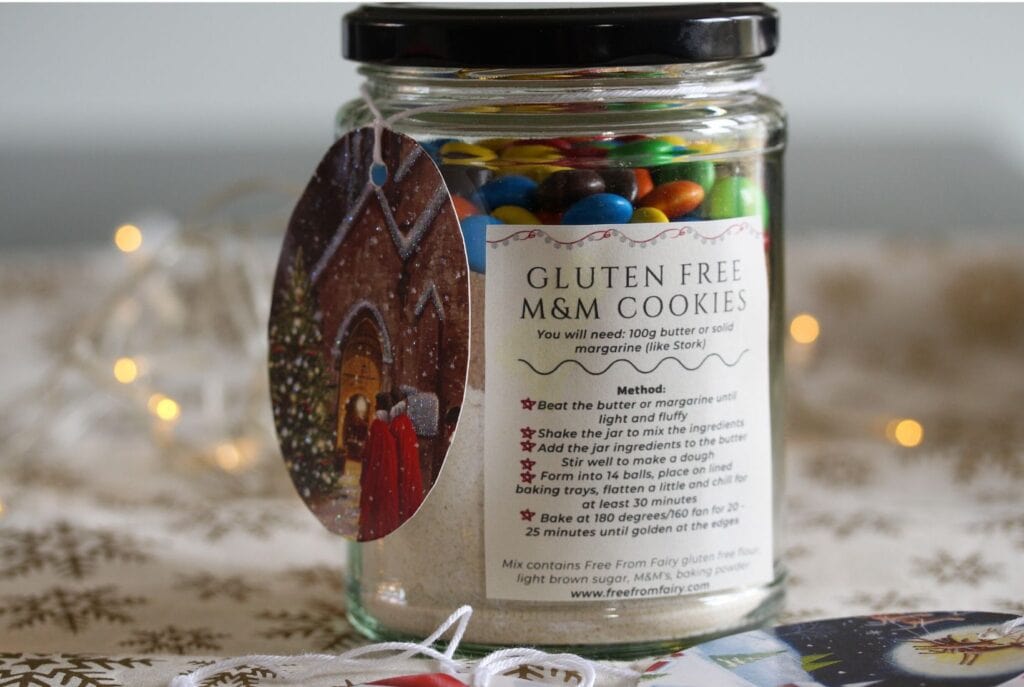 This year we are trying to reduce the amount of plastic waste generated by Christmas. I've therefore been planning various environmentally friendly gifts.
This cookies in a jar idea came to me yesterday. It was 'Roo's' last hockey practice for the term and I had nothing to give the coach. But I did have my gluten free flour, store cupboard ingredients and old jam jars.
I therefore decided to make a gingerbread mix in a jar.
The coach has already emailed to thank me for it (she is very lovely).
Now, knowing how popular my gluten free cookie recipe is, I decided to make up some cookies in a jar gifts. I will be giving these to 'Pickle's' teachers, the Guide and Cub leaders etc.
None of them (as far as I know) are gluten free but I know they will love these never-the-less.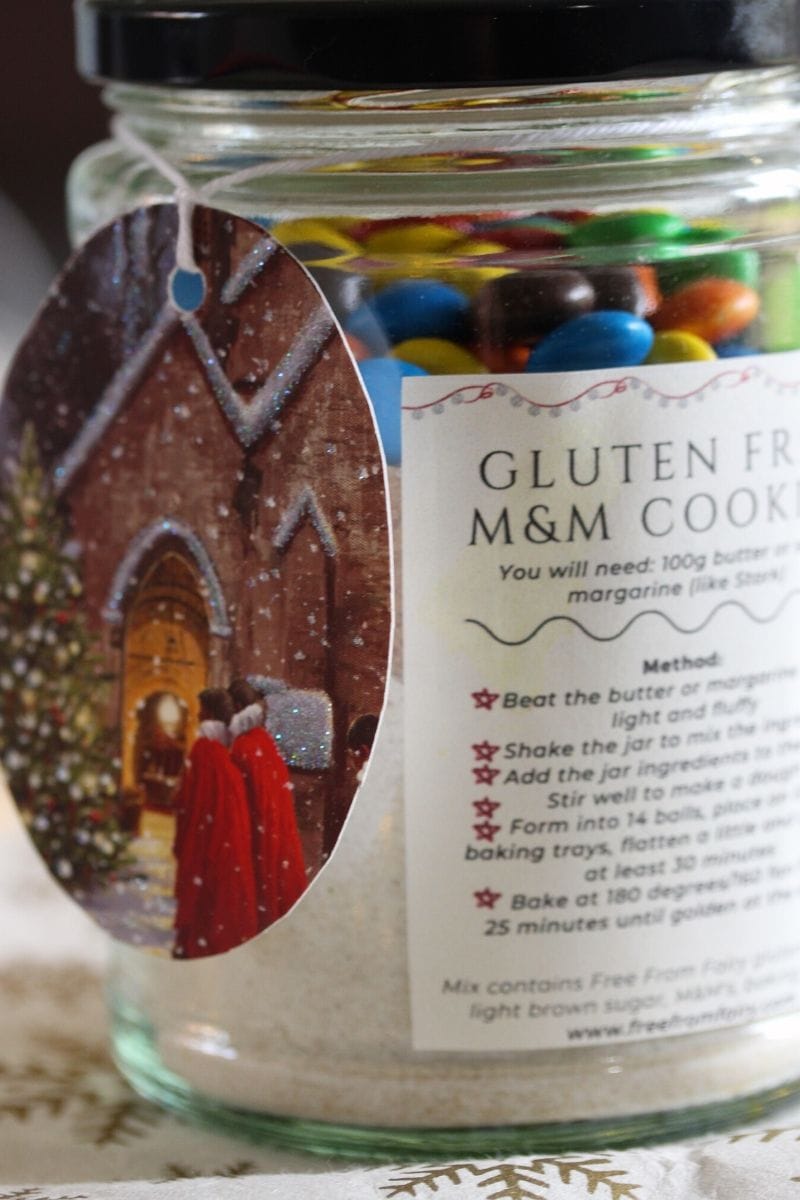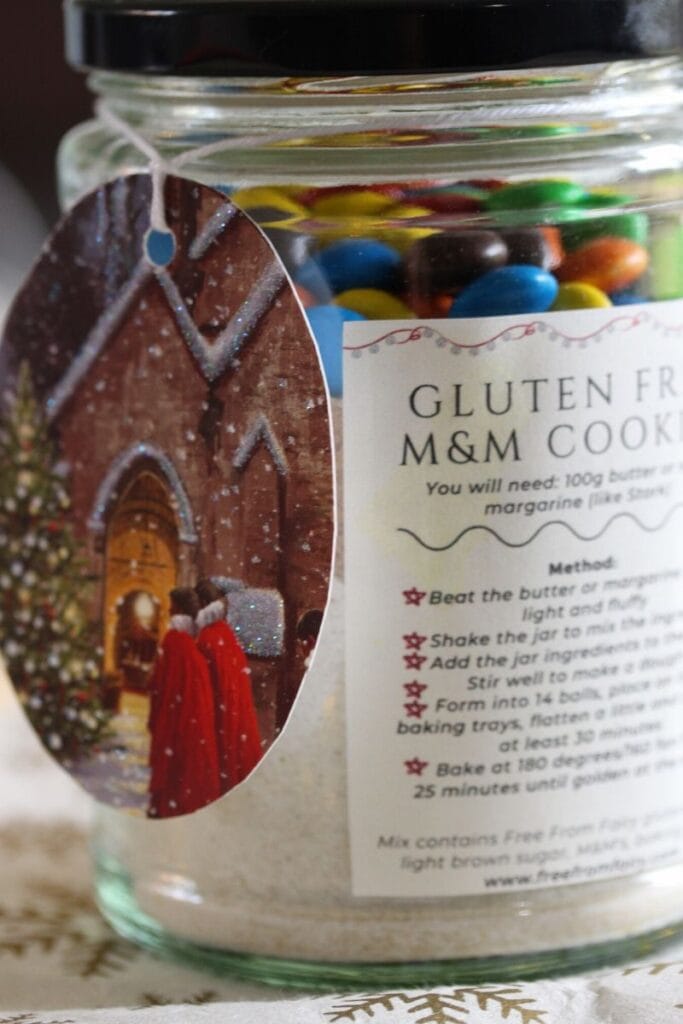 What's special about these cookies in a jar?
This gift is special because it can be made free from the top 14 allergens.
Now I'm sure like us, you know plenty of people who have restrictions to the diets. Whether that's through choice or medical condition.
These cookies are gluten free and egg free but can also be made dairy free. So they satisfy those people who follow the vegan diet as well as anyone with food allergies, intolerances or coeliac (celiac) disease.
They are also incredibly easy to make and the resulting cookie is perfectly soft.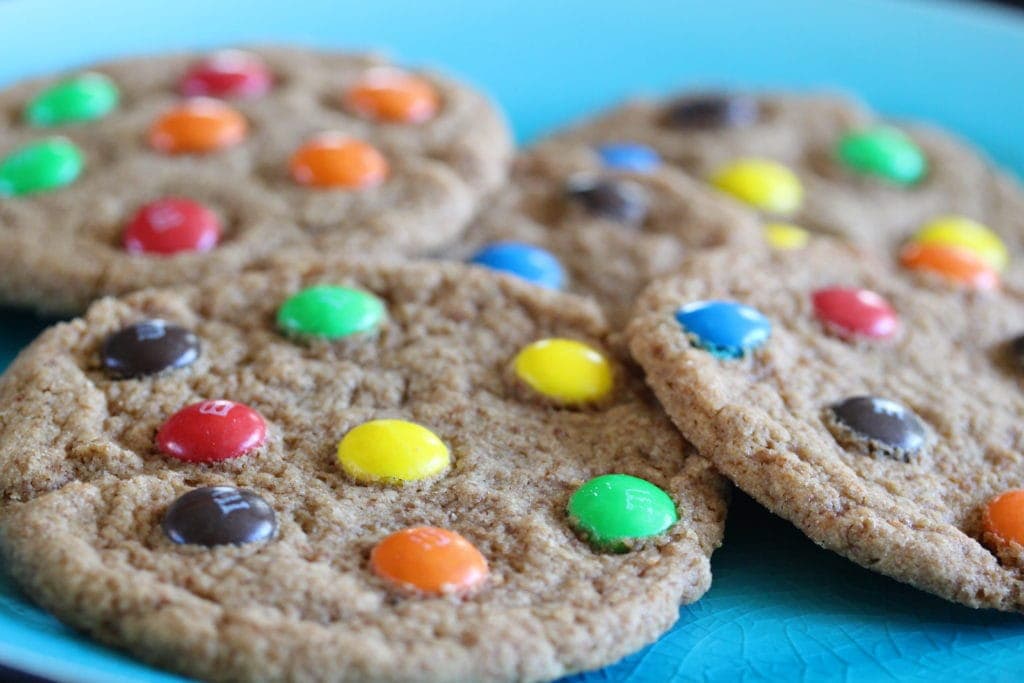 How do I make them vegan too?
The great thing about this cookie in a jar recipe is that you can substitute the M&M's I've used as the 'filling' for whatever takes your fancy.
So if you are catering for someone on a vegan or dairy free diet you'll want to swap the M&M's for something suitable.
That could be Skittles, nuts, raisins, dairy free chocolate chips, cherries or anything else you can think of.
Now obviously if you don't use M&M's the free printable won't be much use to you, but you could easily hand write a label out.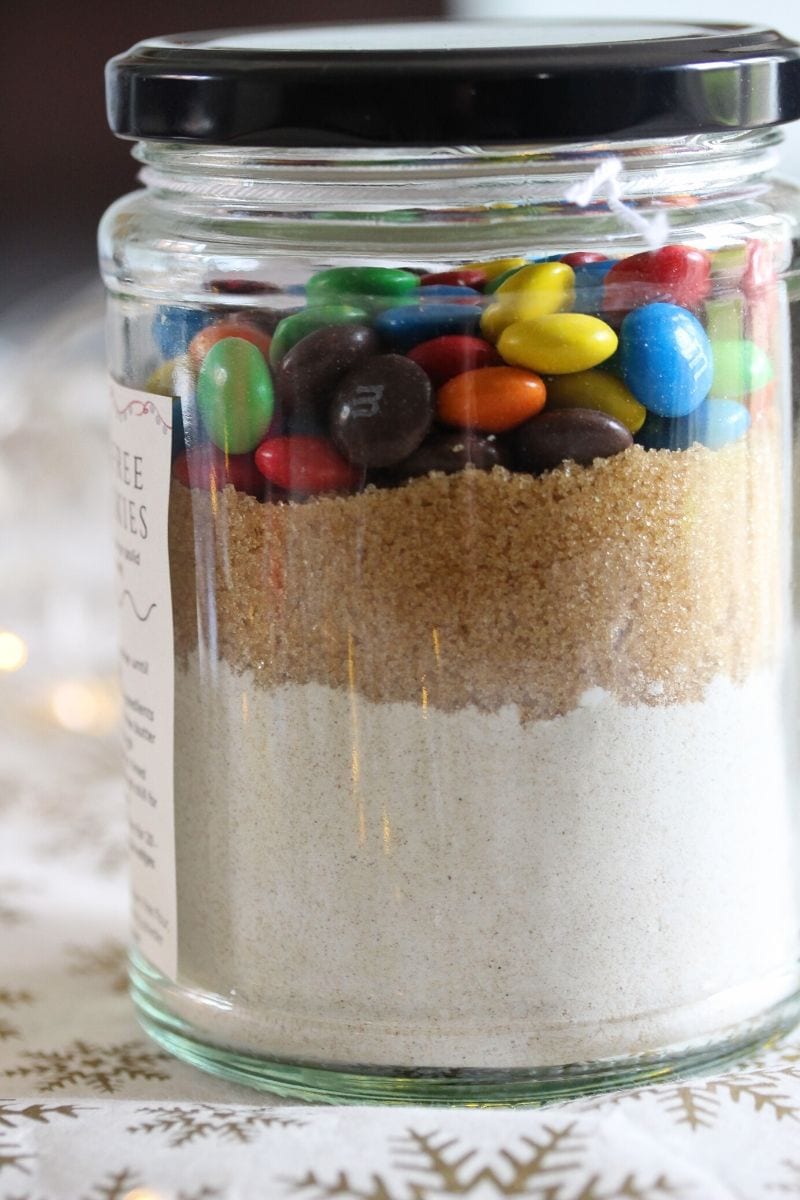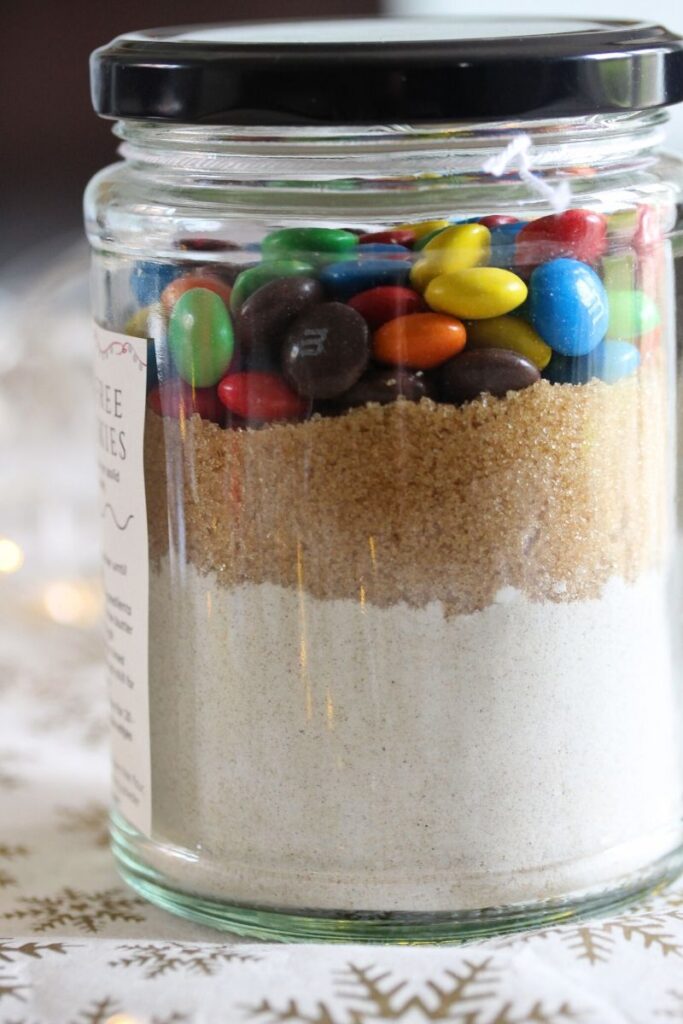 How do I make double chocolate cookies?
If you have a massive chocoholic in your life (me!) you could remove 20g of the flour and replace it with 20g cocoa instead.
Then I highly recommend either using dark chocolate chips, M&M's or hazelnuts as the filling for the cookies.
Why use your gluten free flour blend?
There are several reasons why I suggest you use my gluten free flour blend in this recipe.
Firstly, I created it to avoid rice, and the fact that there is arsenic in rice. This is something that is an issue on the gluten free diet because almost all baked goods are made from rice flour.
Secondly, I created it because almost all other gluten free flour blends are made from white refined flours. These act in the same way in our body as eating sugar and mean that we get a spike of high blood sugar levels followed by a slump, after eating them.
My flour blend contains 70% wholegrain flours, giving a more sustained impact on blood sugar levels as well as providing fibre, protein and other micronutrients like calcium and iron.
Finally, it works in all baking. No other reason that that. You only need the one flour blend to make everything from bread to cakes and even pasta.
And you can buy it right here…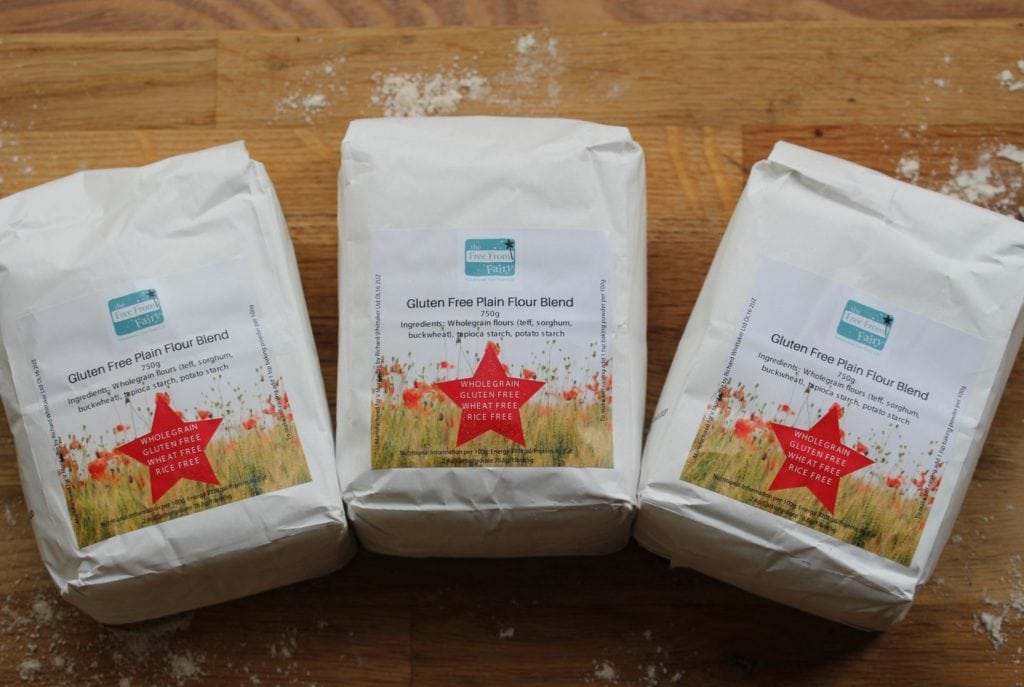 Gluten Free Flour (Plain)
I am no longer manufacturing and selling this flour blend due to price increases, insecurity of ingredients and manufacturing facilities. However, as my aim is to be of service in this life I have decided to share the recipe for the blend so that you can create all the recipes using it that I share on this site.
If you'd like to make a donation for the recipe that will help me to continue to run this website you can do so here. Thank you so much in advance for your support.
The Free From Fairy gluten free flour blend recipe
To make 1kg wholegrain gluten free flour blend combine:
300g white teff flour
300g sorghum flour
200g tapioca starch
100g buckwheat flour
100g potato starch
Gluten free cookery courses
If you want to learn how to make the flour blend along with a large range of delicious gluten free goodies then sign up for one of my cookery online courses here.
For more information about the blend and why I created it scroll down…
The flour blend is made with low FODMAP ingredients so is perfect for anyone with Irritable Bowel Syndrome (IBS) or sensitive tummies.
What size jar do I need?
I highly recommend using old jam jars that you have lying around, rather than going out and buying new jars. If you don't have any jars I'm sure there is someone you know who has some spare.
I used an empty 500ml Coconut Merchant coconut oil jar. Their new latch lid 1 litre jars are particularly beautiful.
They are perfect for storing my flour in, or using to gift my flour to a friend or relative (just saying!).
The 500ml size of jar is the perfect size to fit this mix in. However, if you only have smaller jars why not halve the recipe?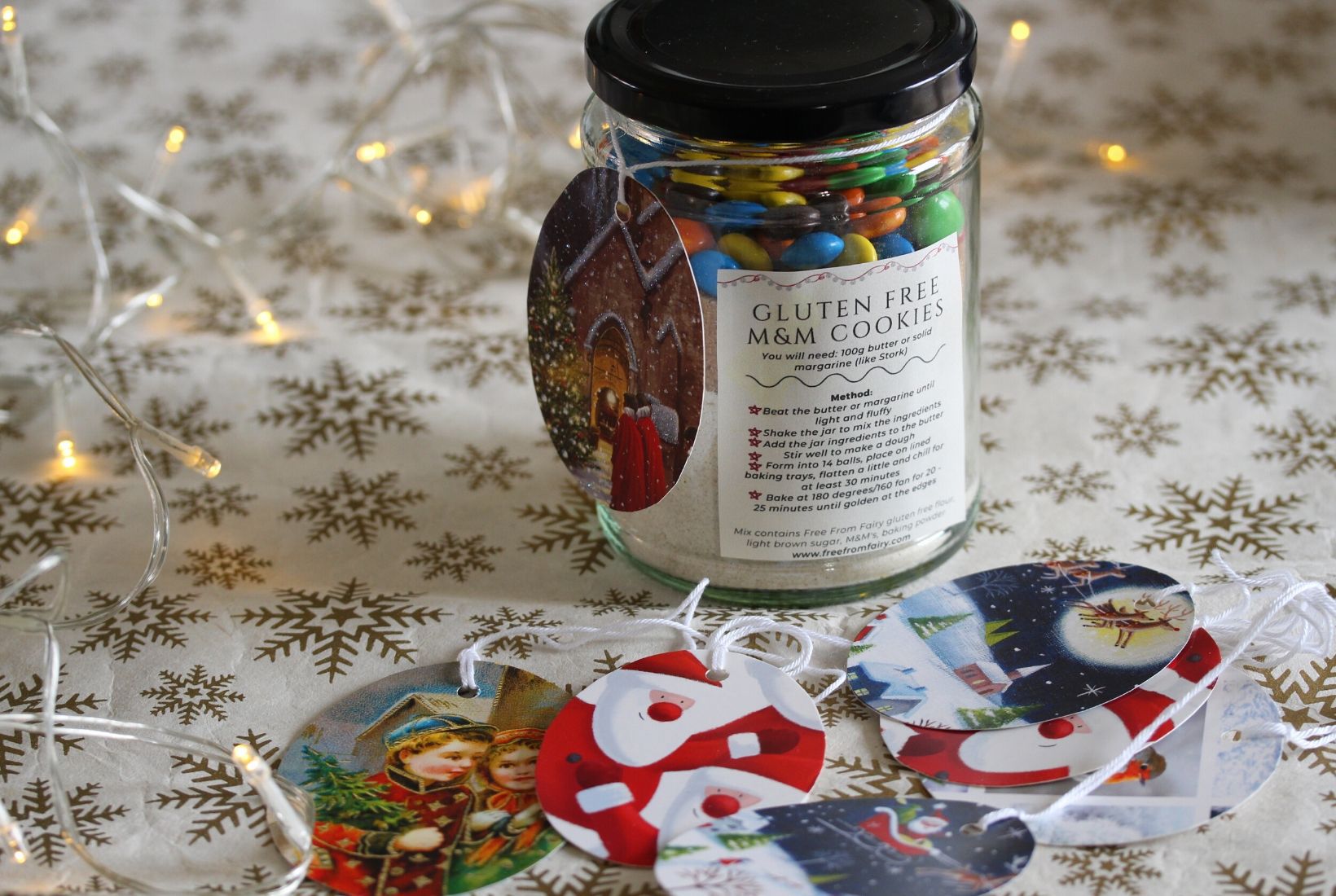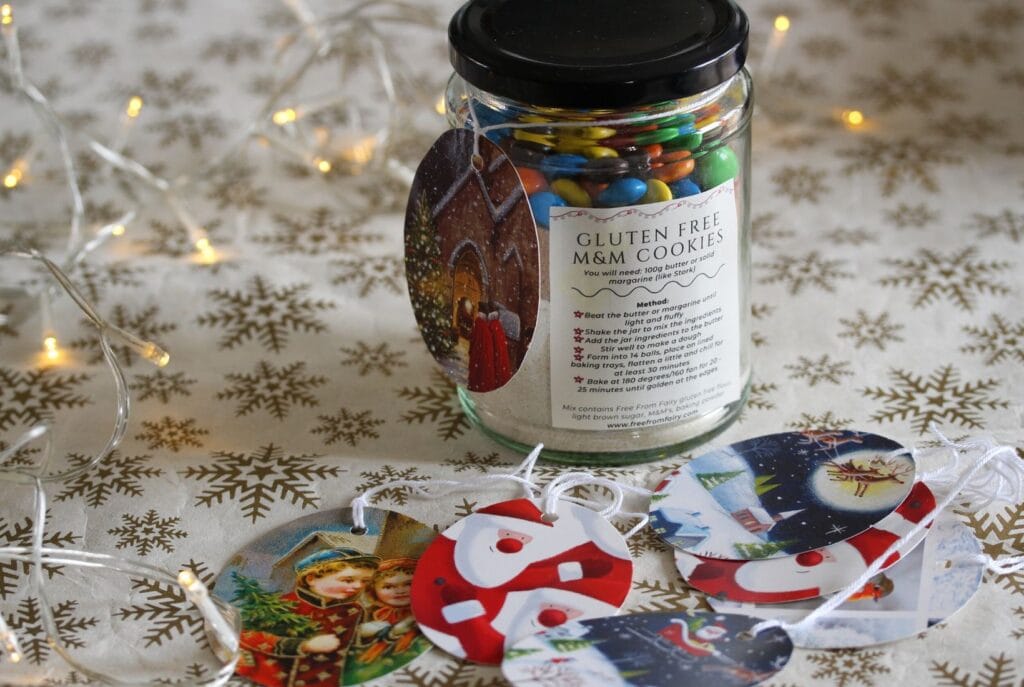 Free printable: gluten free cookies in a jar
Download a copy of your free printable above.
You'll see that there are 9 labels on one sheet. This was to get as much onto one piece of paper as possible. And also encourages you to make 9 jars in one go. You'll be giving homemade edible gifts to everyone this year after this.
I used cellotape doubled over to stick the label onto the jar.
I then attached a little homemade gift tag to write a message on.
And no, don't worry, I didn't make those tags too. Although it would be easy to do so with old Christmas cards. But I'm not wonder woman! I bought these for £1 in a local charity shop.
How to make cookies in a jar gift
Mix 1/4 tsp gluten free baking powder with 150g Free From Fairy gluten free plain flour
Layer the flour and baking powder mix in the bottom of your 500ml jar
Add 100g coconut sugar or light brown sugar on top of the flour layer
Finally add 85g M&M's or other 'filling' of your choice
Print off your labels, attach them with cellotape and personalise with your own gift tag.
Pin these gluten free cookies in a jar idea: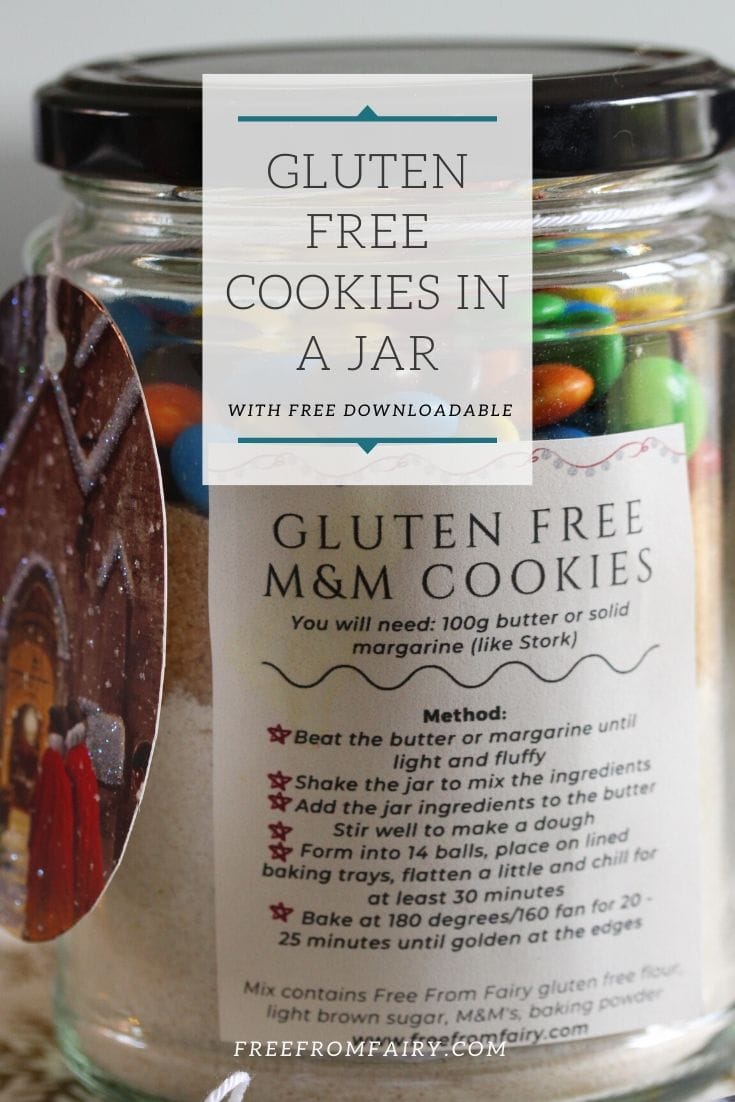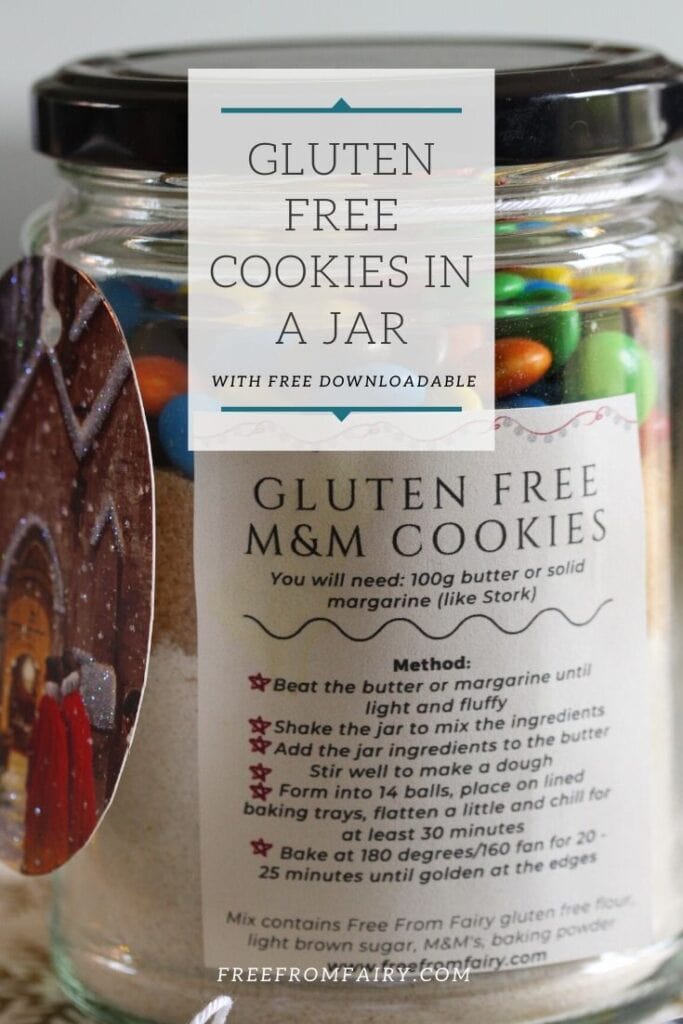 Other unique edible gift ideas
In case this has whet your appetite, I thought I'd drop some other ideas for homemade edible gifts.
Do let me know what you end up making, using #freefromfairy across social media.
Looking for more gluten free recipes? Sign up for my free e-book: