This gluten free vegan bread recipe is so simple to make. I use my bread maker to bake it and it takes just 5 minutes to prepare before the machine does the work. I provide an option for baking without a bread maker too.
This post contains Affiliate links. As an Amazon Associate I earn from qualifying purchases.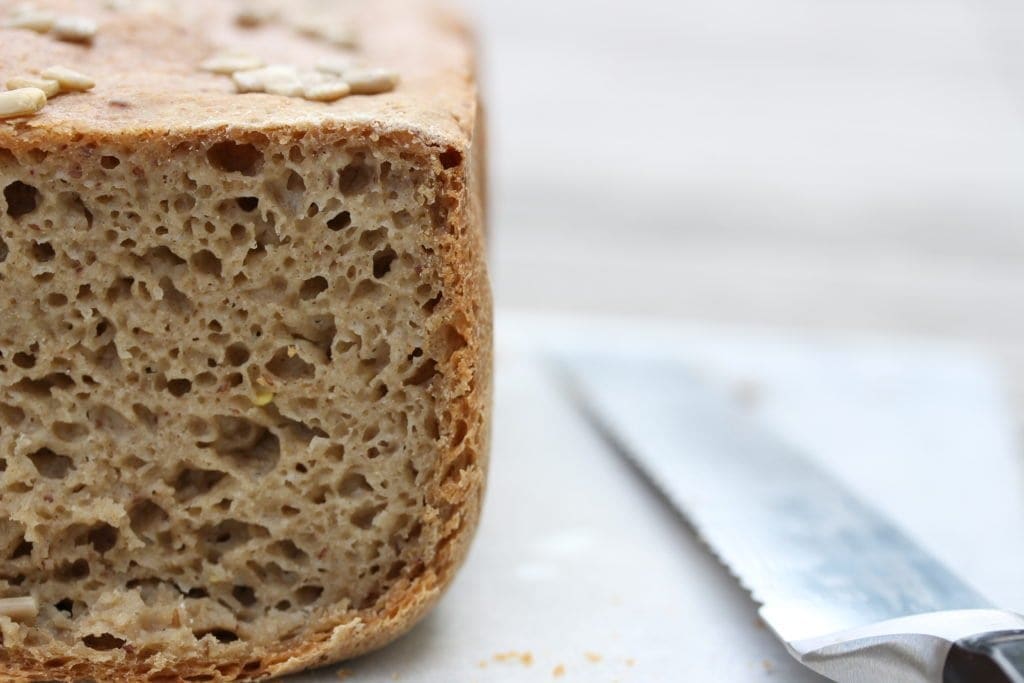 I get asked all the time for bread recipes that use a bread maker and as I will be launching a giveaway on 1st August for a Zero Gluten Baker I thought I would finally share a recipe.
If you use a different bread maker you are likely to get different results.
This recipe is almost the same as the one on the packets of my plain flour blend where I use it to make a garlic and herb tear and share bread.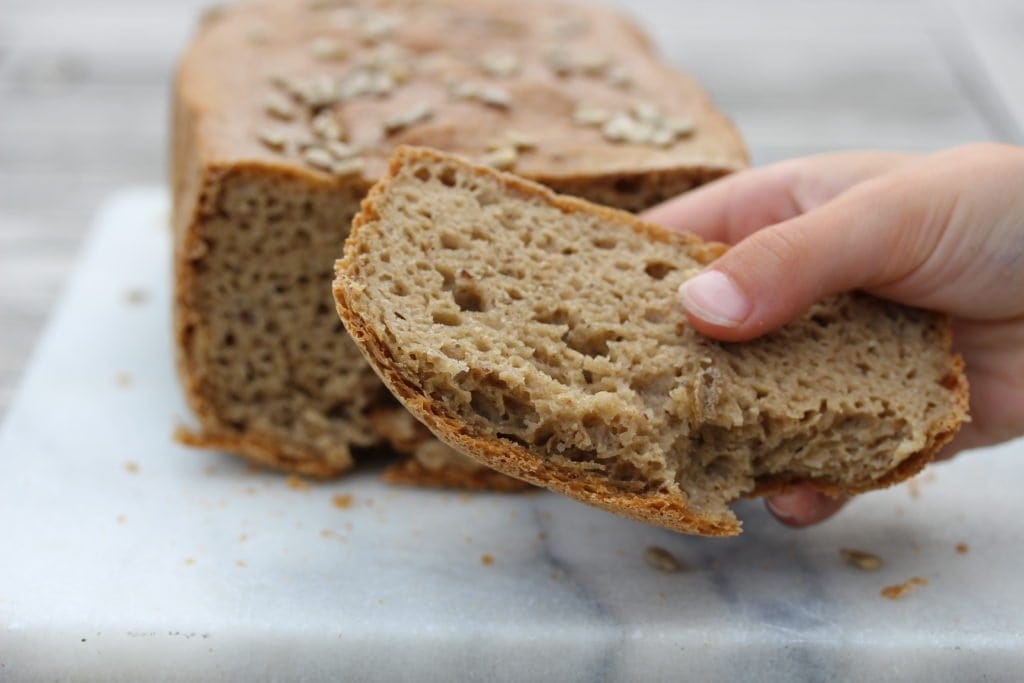 Why make your own gluten free bread?
Shop bought bread is full of all kinds of strange ingredients and often includes eggs.
I am trying to move away from adding eggs to bread (it seems rather odd if nothing else).
Instead I rely on my quality gluten free flour blends plus natural bread ingredients.
If you are not sure what a gluten free flour blend is then read this article I wrote.
It will save you having any more baking disasters.
The only 'odd' ingredient I do add is psyllium husk powder which acts as a gluten replacer.
If you don't have any psyllium husk powder then you can replace that with xanthan gum.
I prefer to use psyllium husk powder, ground flax seeds and chia seeds as my gluten substitutes because they are just seeds ground up and are therefore more natural.
You'll find out more about psyllium in this blog post I wrote.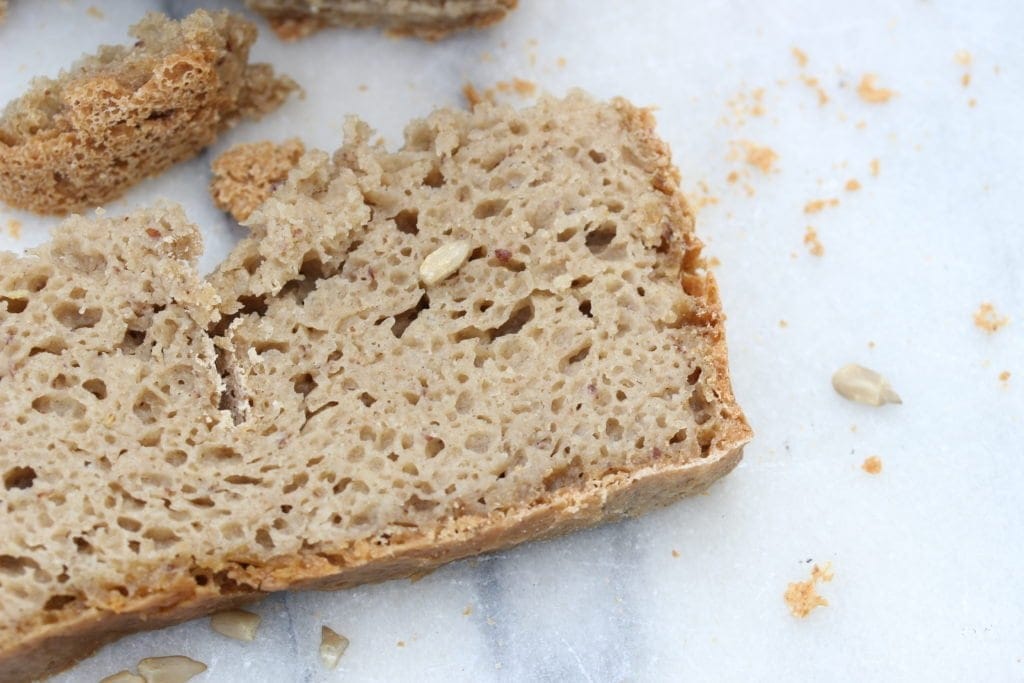 Does this gluten free vegan bread keep well?
Being homemade, don't expect a long shelf life for this gluten free vegan bread.
If you don't eat it on the day or day after you bake it, it will be dry; perfect for toast or bread crumbs but not so good for sandwiches.
I personally prefer the fact that my bread goes dry.
It is simply unnatural for shop bought bread to last so long and the reason it does is because of all the preservatives and gums that are added.
Think about the French. You wouldn't catch them keeping bread for more than one day!
If you do want the bread to last longer then slice it and freeze it.
All you need to do when you want it is heat it through in the microwave until warm and it will be just like it was from the oven.
What gluten free flour is in the bread?
If you want to make this bread you'll need my wholegrain gluten free plain flour blend.
You can find out all about it by reading this article here.
You can buy it from my shop: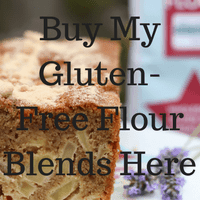 If you like this recipe then you might like my other bread maker recipe.
It's for gluten free and dairy free fruit nut and chocolate loaf.
That isn't a vegan recipe because it contains an egg.
You could try replacing the egg with egg replacer if you need it to be vegan.
If you're replacing an egg in a recipe that doesn't use the egg for helping the rise of the bake, then use 1 tbsp ground flax seeds mixed with 3 tbsp water.
Stir the mixture then leave it for 5 minutes until it forms a gel.
Then use it as you would an egg.
If you like this recipe then why not get my free gluten free recipe booklet:
Can you make this recipe without a bread maker?
Yes you can.
If you don't have a bread maker then I recommend you use a mixer like this Sage Mixer to mix up the dough. This ensures the ingredients are well combined and the dough forms properly.
Firstly, combine the dry ingredients using the K-beater. Allow the dry ingredients to mix for 30 seconds.
The great thing about this Sage mixer is that it has a timer on it.
Once the dry ingredients are combined, add the wet ingredients and mix at the folding/kneading setting (or a low setting) for 1 minute. Scrape off the scraper and mix again for another 30 seconds.
The mixture will then be ready to transfer to a greased tin.
I highly recommend using this particular loaf tin. It is perfect for gluten free bread because it is narrow with high sides.
When you bake gluten free bread the biggest trouble you'll have is getting it to rise. With the correct tin the dough will reach the top of the tin and provide a slight dome.
Due to the lack of gluten you'll never get a gluten free bread that will hold it's form above the top of a tin. This is why you need a tall tin to assist with getting the best looking loaf you can.
Cover the tin with a damp tea towel and leave to rise in a warm place for approx. 1 hour until it has reached the top of the tin.
Then transfer to a pre-heated oven. You'll need to get the oven really hot before adding the bread. I suggest getting the oven to 220 degrees C fan before adding the bread. You'll then want to turn the temperature down to 180 degrees C fan.
Bake the bread for 45 minutes. Then remove from the tin, place on a baking tray and cook for around 10 minutes more until it sounds hollow when you tap the bottom.
Pin the recipe for gluten free vegan bread in a bread maker so you don't lose it: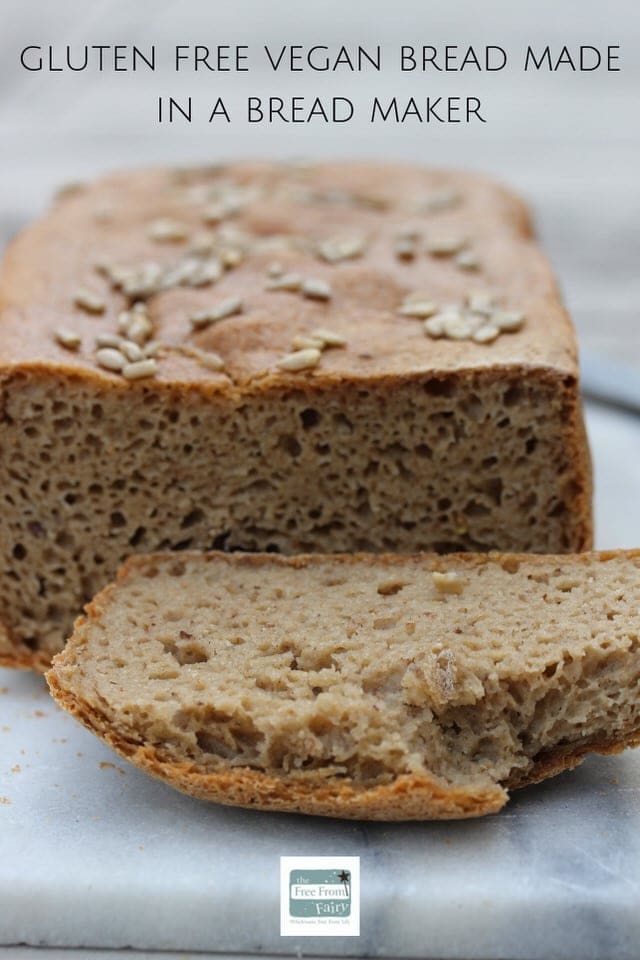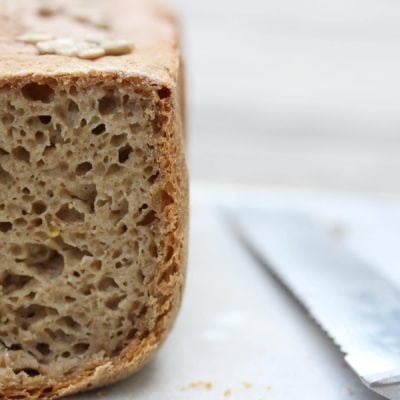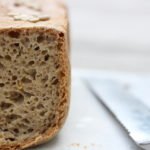 Gluten Free Vegan Bread In A Breadmaker
Gluten-free, Dairy-free, Egg-free, Nut-free, Soya-free, Vegan
Cook Time
1
hour
40
minutes
Total Time
1
hour
45
minutes
Method
Place the ingredients into the bread maker pan in the order listed

Put the pan into the bread maker and switch on. If you have a gluten-free setting use that or choose a program that only has one rise before baking (usually the 'quick' bread program)

Once the bread has risen drizzle with a little oil before the baking cycle starts, if desired. You could also scatter with seeds at this stage.

When the bread has baked remove the pan from the machine and leave to cool for five minutes before turning out onto on a wire rack

Leave to cool completely before cutting
Recipe Notes
Nutrition information is for guidance only
Nutrition Facts
Gluten Free Vegan Bread In A Breadmaker
Amount Per Serving
Calories 243
Calories from Fat 45
% Daily Value*
Fat 5g8%
Sodium 1mg0%
Potassium 71mg2%
Carbohydrates 44g15%
Protein 5g10%
Calcium 7mg1%
Iron 1.1mg6%
* Percent Daily Values are based on a 2000 calorie diet.
I've shared this with: