This gluten free vegan mincemeat is my all time favourite recipe. It is made with coconut oil instead of suet so is suitable for vegetarians and vegans as well as those following a gluten free and/or dairy free diet.
Once you've made it you'll never buy it again!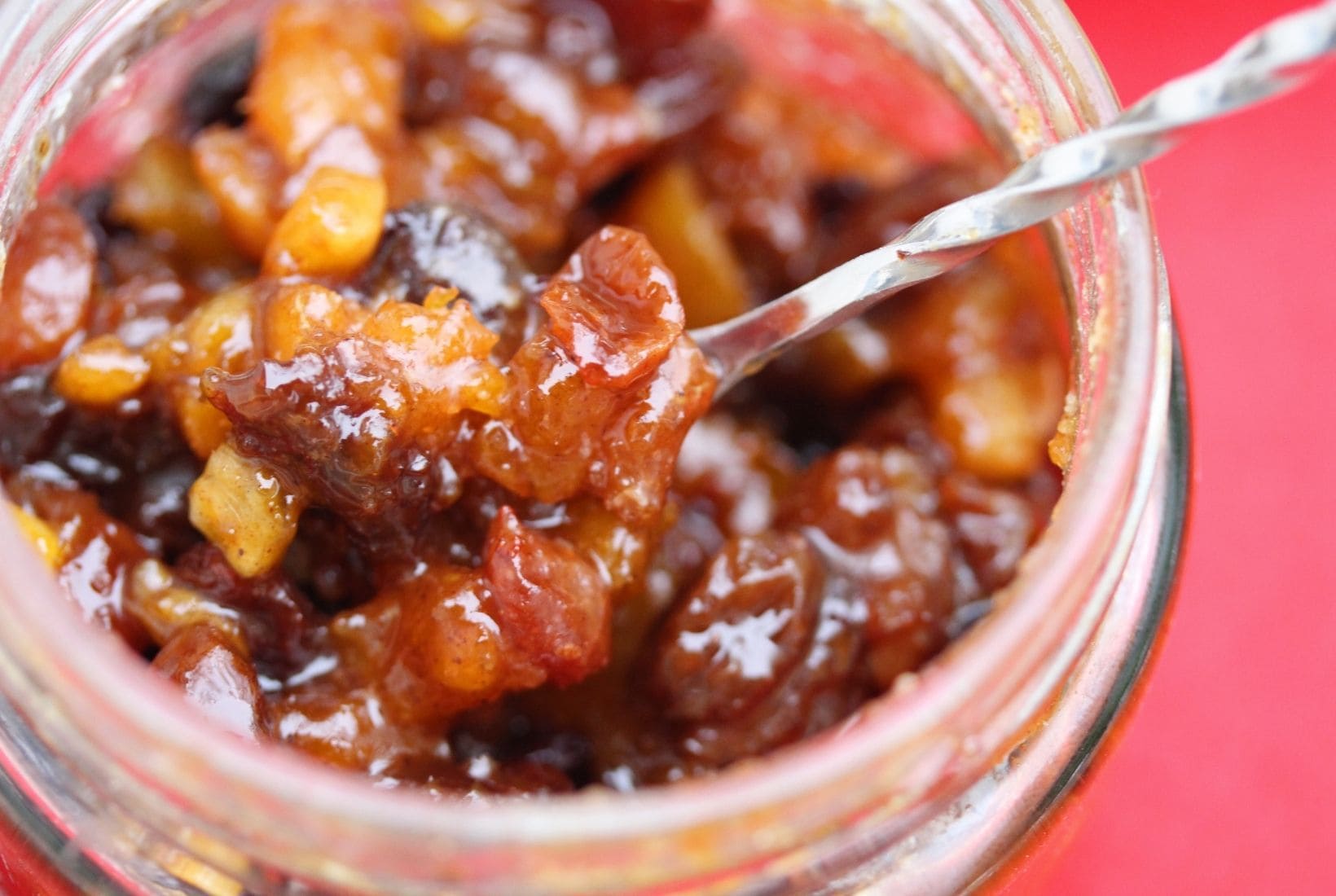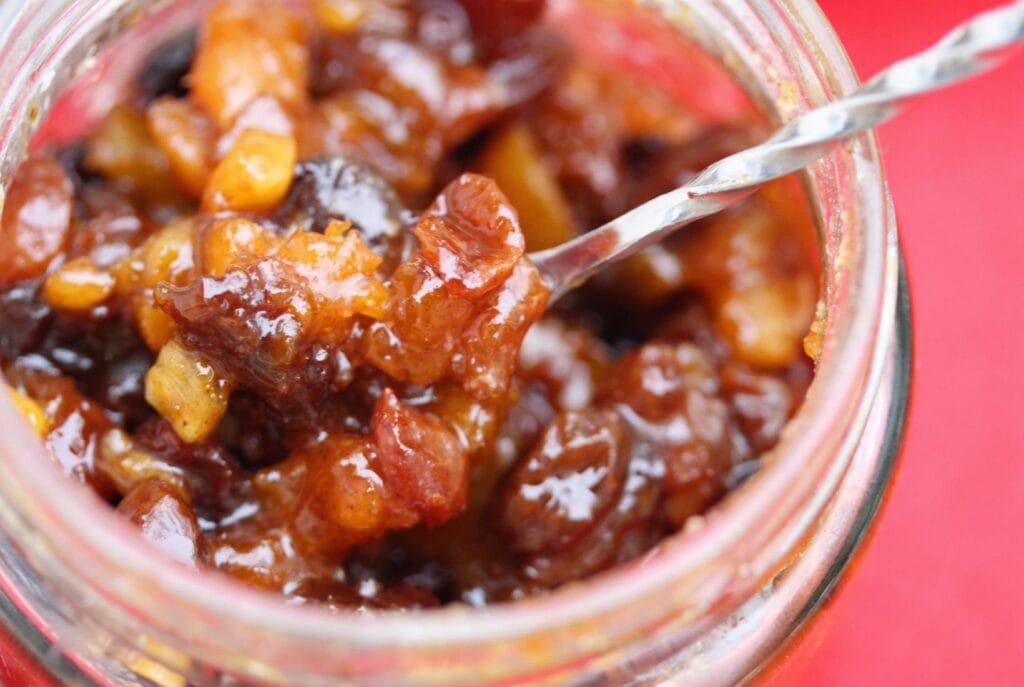 What is mincemeat?
Mincemeat is a traditional filling for mince pies. It is usually made with dried fruit, spices, spirits and beef suet.
As suet is made from animal fat that is often coated with flour it is normally unsuitable for vegetarians, vegans and people with coeliac disease or avoiding gluten.
Some years ago I came up with an alternative recipe that is perfect for anyone following a gluten free, dairy free, egg free, vegetarian or vegan diet.
Not only that, but being made with coconut oil it doesn't have any of the processed vegetable fats that are often used in vegetarian or vegan mincemeat.
I always try to eat a diet of unprocessed food as far as possible hence my use of coconut oil rather than a vegetable shortening. If you'd like to read why eating processed food is best avoided read this article.
Why make your own mincemeat?
Making mincemeat is super, super easy and the end result is so much tastier than the shop bought stuff.
Of course the other benefit to making your own mincemeat is that you know what goes in it.
Take a look at the ingredients in a shop bought jar and you might be shocked to see all kinds of strange things.
Glucose Fructose Syrup (High Fructose Corn Syrup) is commonly added to the cheaper varieties. Whilst there is no conclusive evidence that this leads to higher levels of obesity I think I'd rather avoid it!
You'll also find unnecessary colouring and preservatives.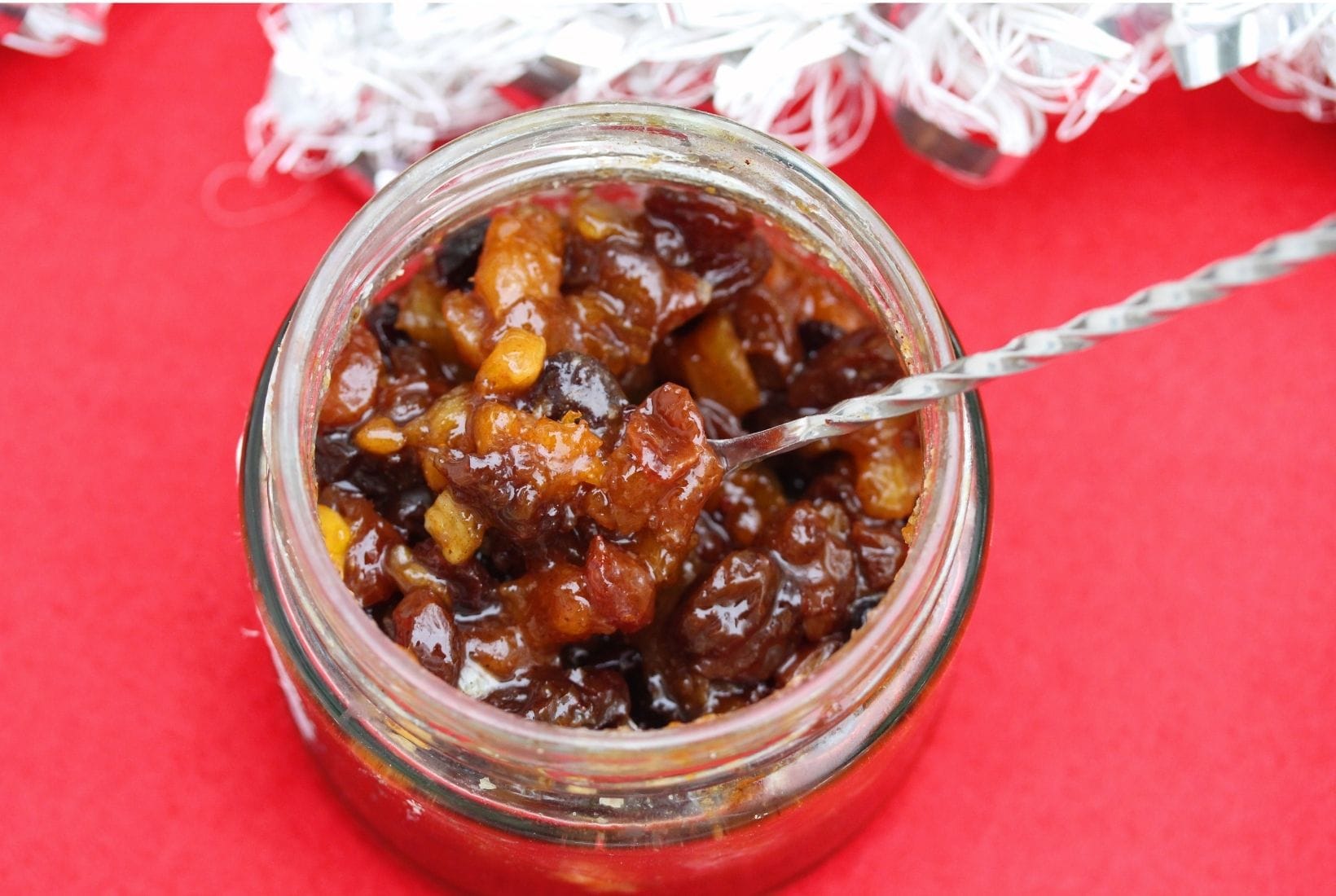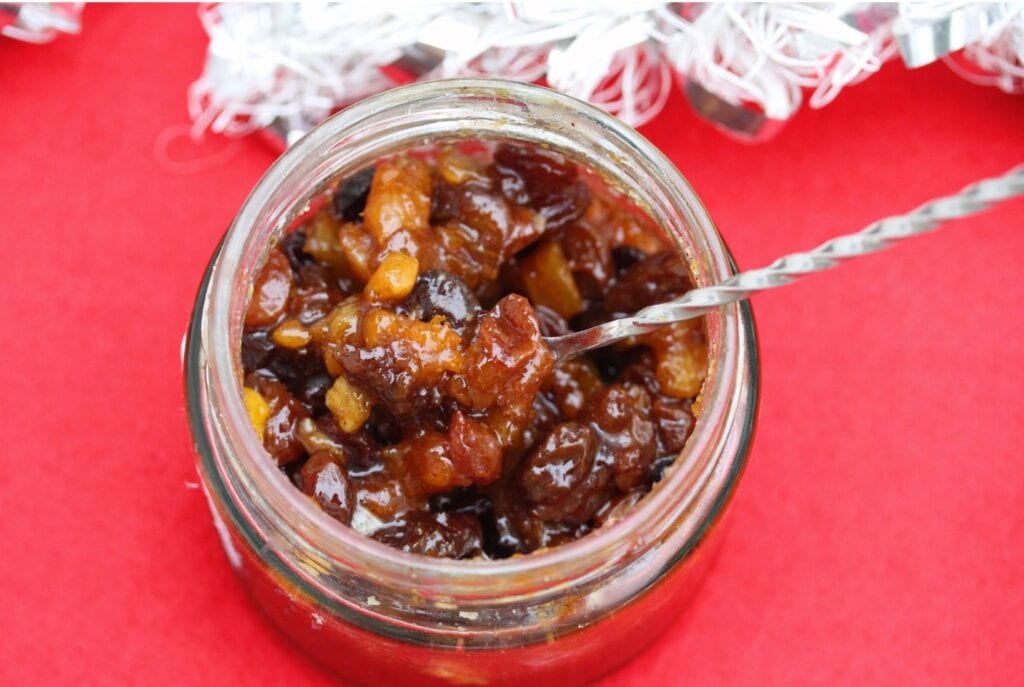 Is it easy to make vegan mincemeat?
Yes in a word.
Until a few years ago I had never made it; now I never wouldn't make it.
Simply melt the coconut oil and sugar together then add all the other ingredients (except the alcohol, if using it) and simmer them for 30 minutes or so.
Tada. Mincemeat ready for storing in the fridge until required. What's not to love?
Other recipes for mincemeat
If this mincemeat recipe doesn't tickle your tastebuds then check out my other mincemeat recipes below:
Recipes that use mincemeat
I adore mincemeat so I have a lot of recipes that use it. Of course you can make traditional mince pies but you can do so much more than that with it too.
So if you have a jar of mincemeat left after Christmas why not try some of these recipes out: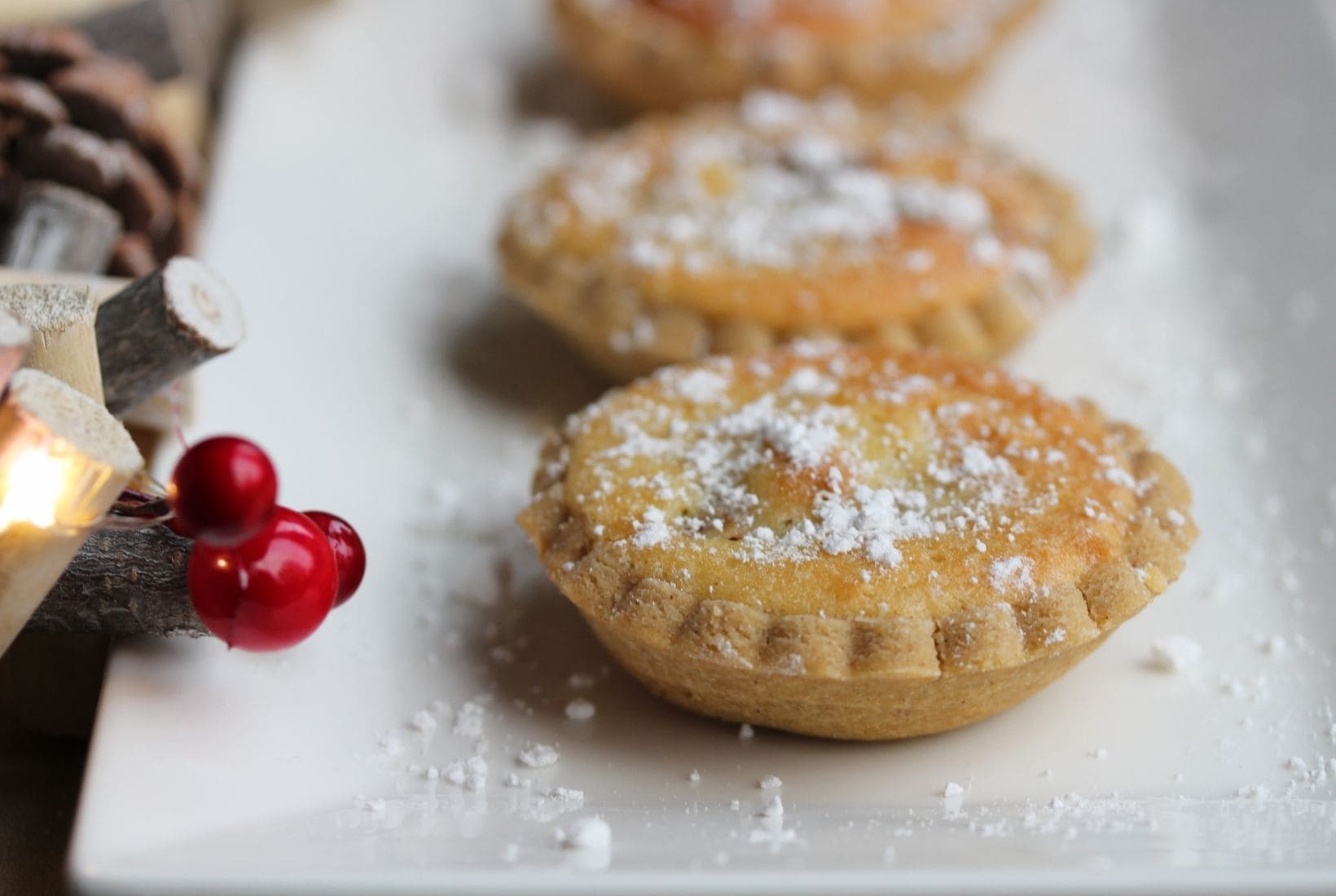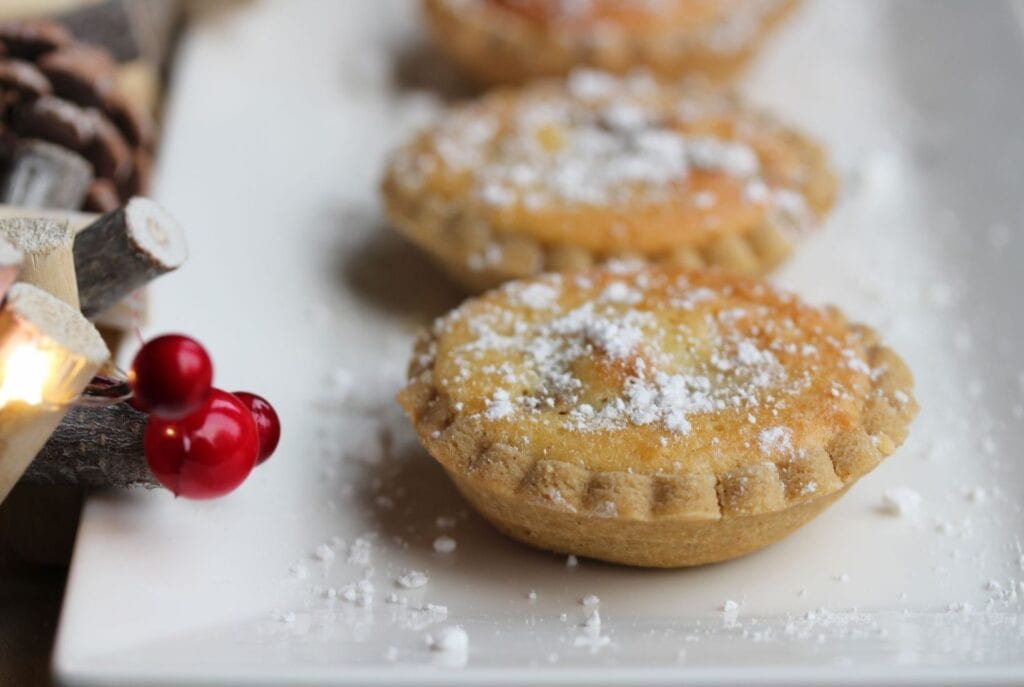 Need more help with gluten free Christmas baking?
Join my gluten free Christmas baking sessions over in my private Facebook group. You can find full details and sign up here.
Free recipe e-book
Get all your favourite recipes made gluten free in my free gluten free recipe e-book. All you need to do is pop your email address in the box below and it will appear in your inbox as if by magic!
Pin the recipe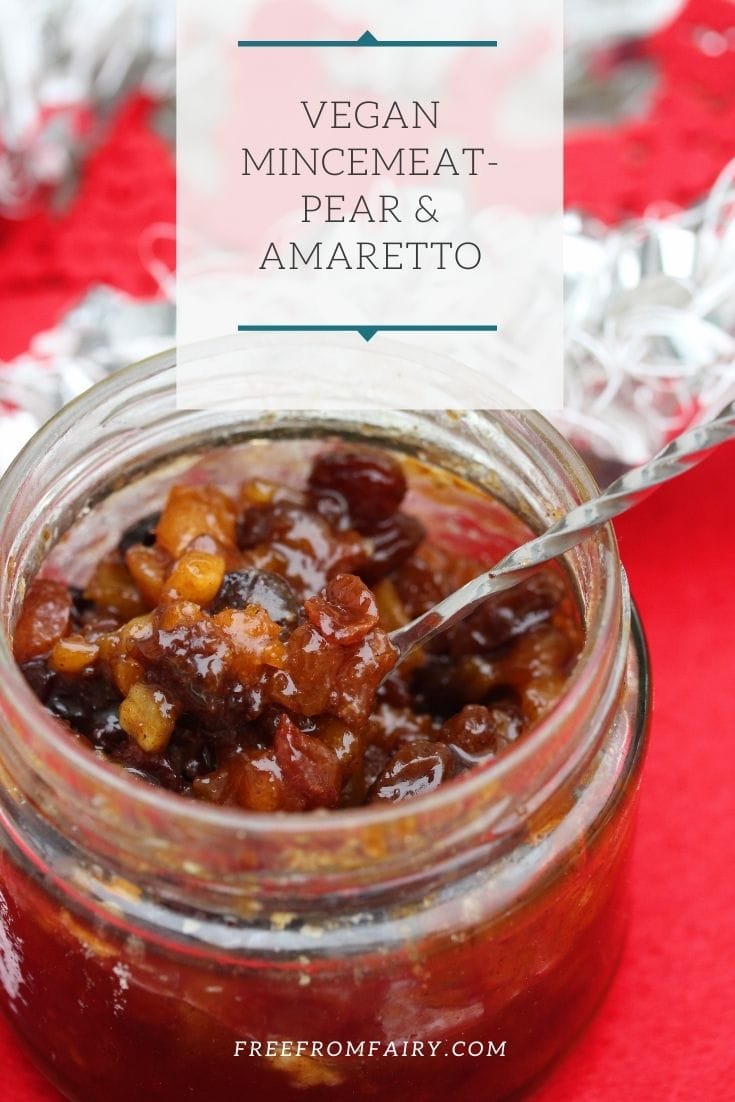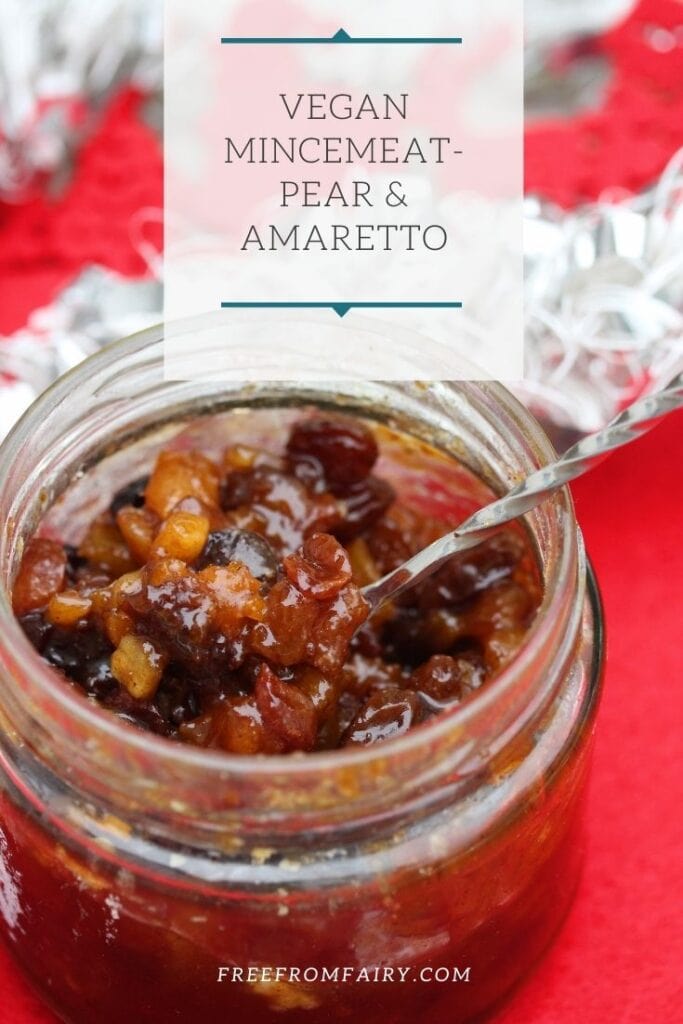 Gluten Free Vegan Mincemeat Recipe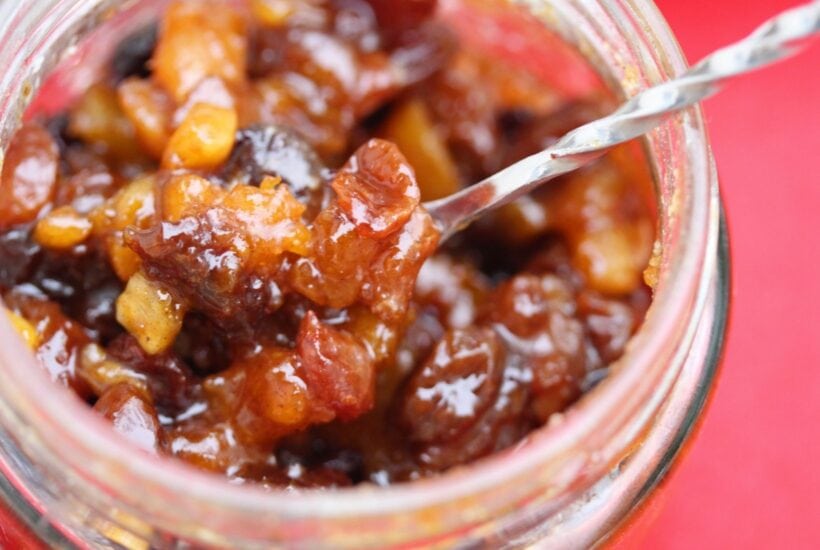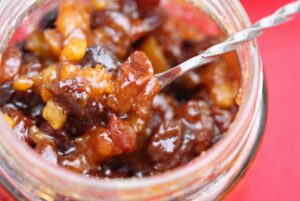 Gluten Free Vegan Mincemeat (Pear & Amaretto)
A wonderful easy to make vegan mincemeat that is suitable for those on a gluten free diet due to coeliac disease or other medical/lifestyle reason.
Ingredients
225

g

pears

-

peeled and finely chopped

500

g

bag mixed dried fruit

-

I used Tesco Value!

125

g

dried apricots

-

finely chopped

100

g

coconut oil

100

g

dark brown sugar or coconut sugar

-

(can be increased to 175g)

1

orange

-

Juice and zest

1

lemon

-

juice and zest

2

tsp

mixed spice

1/4

tsp

cinnamon

1/4

tsp

nutmeg

4

tbsp

amaretto

-

more if you want it more boozy!
Instructions
Place the coconut oil, sugar and the zest and juice of the lemon and orange in a large pan over a low heat

Heat gently until the sugar has dissolved, then add the remaining fruit and spices and leave to simmer with the lid on for approx. 35 minutes, stirring occationally

Remove from the heat and stir in the amaretto. If you do not want the alcohol to remain in the mixture then add the amaretto with the sugar and coconut oil, rather than at the end

Spoon into sterilised jars* and store in the fridge to use in mincepies, shortbread, apple and mincemeat crumble etc! (when the mix is cold the coconut oil will separate out a little – don't worry, when warm it all melts back in again!)

To make gluten and dairy-free mince pies follow my basic sweet shortcrust pastry recipe. Top with 'fangipane' to make completely original pies!
Notes
Nutrition information for guidance only
Nutrition (Approx)
Serving:
20
g
|
Calories:
32
kcal
|
Carbohydrates:
3
g
|
Protein:
1
g
|
Fat:
2
g
|
Saturated Fat:
2
g
|
Sodium:
1
mg
|
Potassium:
42
mg
|
Fiber:
1
g
|
Sugar:
2
g
|
Vitamin A:
97
IU
|
Vitamin C:
3
mg
|
Calcium:
4
mg
|
Iron:
1
mg
* to sterilise your jars and lids (I just collect up old jars from peanut butter etc) wash with warm soapy water, rinse well and dry with a clean tea towel. Then place on a baking tray in a pre-heated oven at 180 degrees for 5 minutes.