These gluten free mince pies are the best you'll ever taste. The gluten free shortcrust pastry is short and buttery; the pear and amaretto mincemeat goes beautifully with the almond frangipane topping. If you are dairy free there is a dairy free option too.
It's taken eight years to post a mince pie recipe but it's here and it was worth the wait!
This post contains Affiliate links. As an Amazon Associate I earn from qualifying purchases.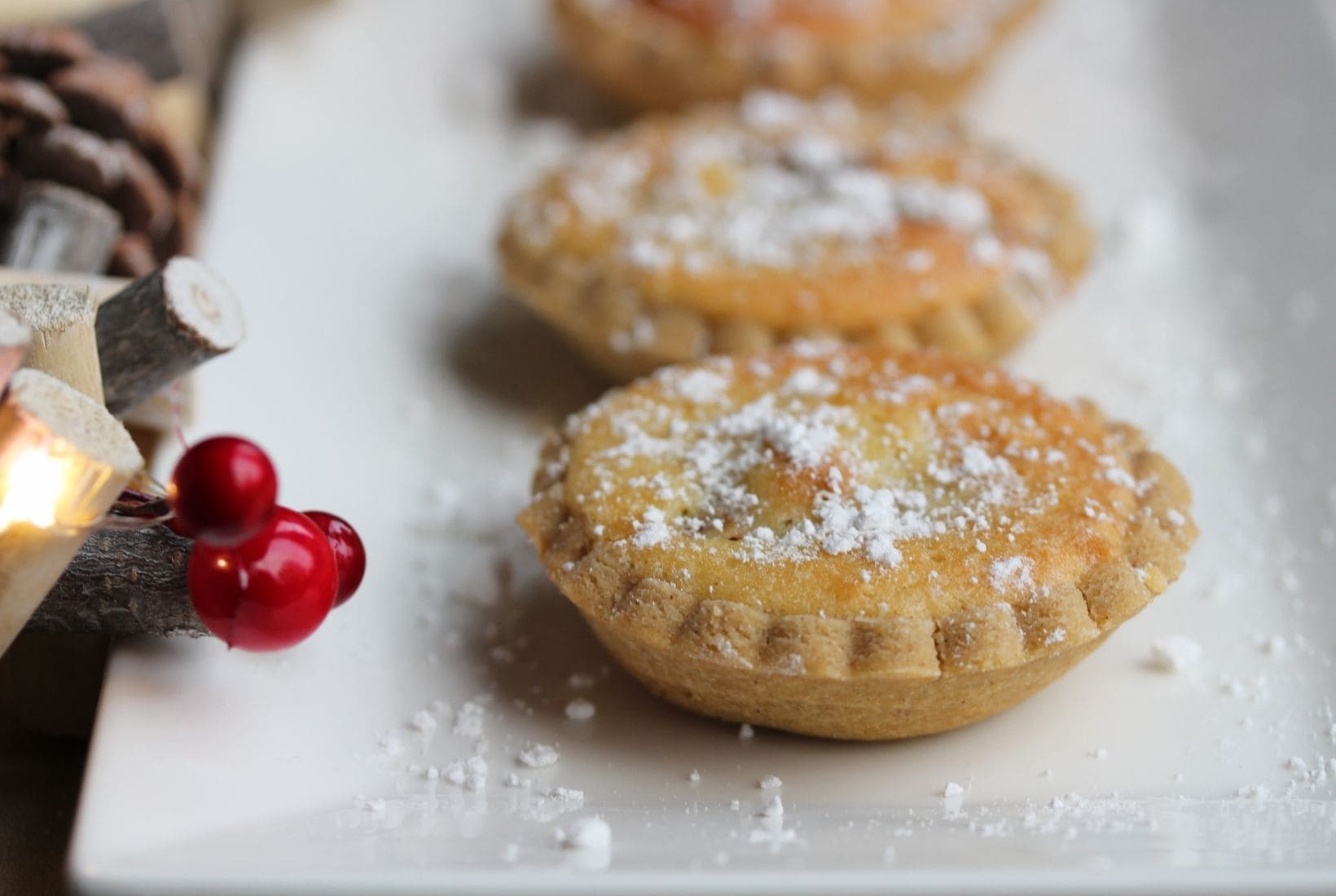 Jump to Recipe
What is a mince pie?
If you're not from the UK then you may be wondering what on earth this little Christmas treat is. You'd even be forgiven for imagining that it's a savoury pie filled with minced meat.
What it actually is, is a pie typically made with shortcrust pastry, filled with a sweet fruity filling.
It's the perfect little treat at Christmas, or indeed any time of year. In fact I developed a nectarine, summer berry and amaretto mince pie made with summer fruits some years ago.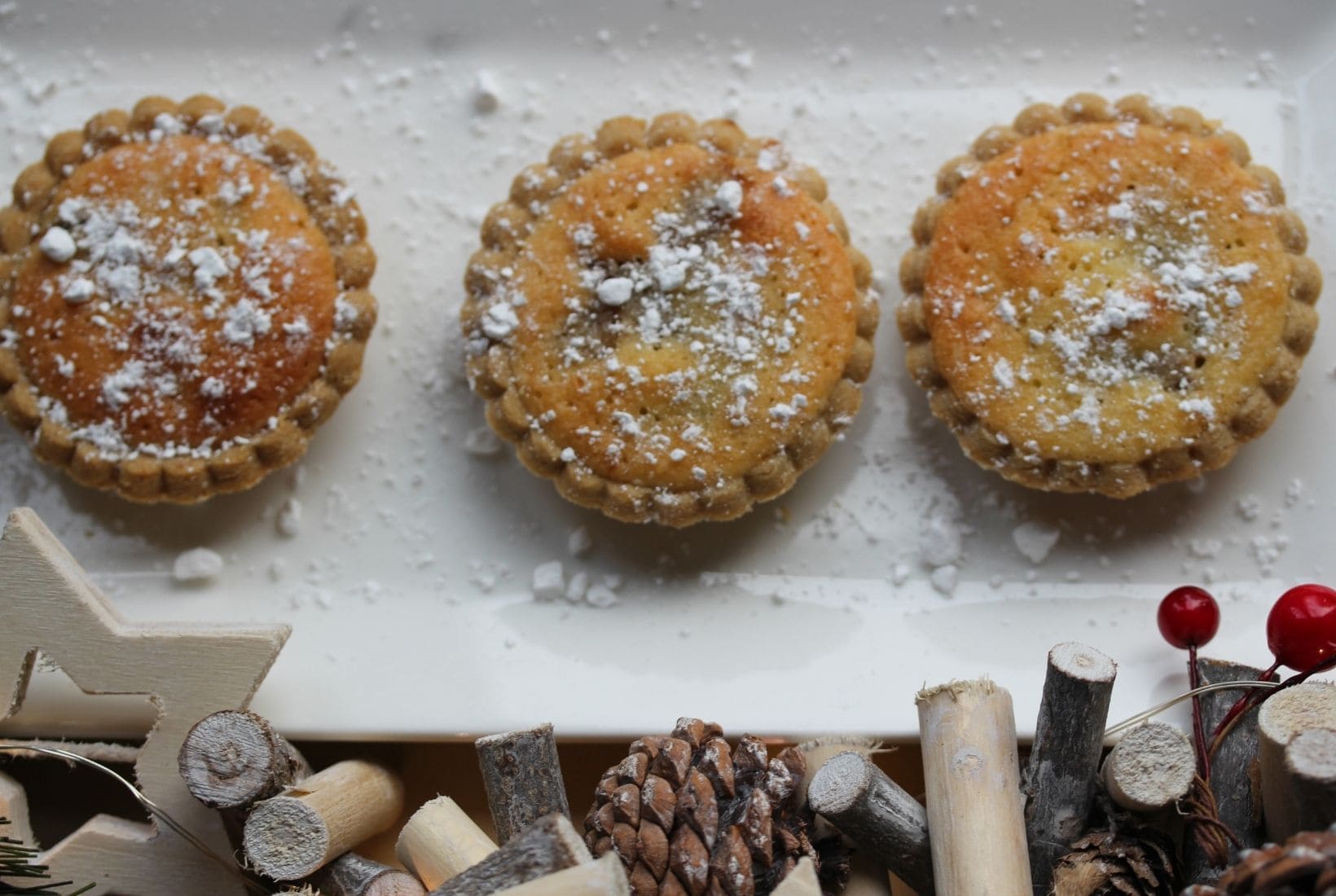 How do you make gluten free mince pies?
Well they are actually easier than you might think.
I know lots of people are scared of making gluten free pastry but it really needn't be something to fear.
My gluten free shortcrust pastry is very simple to make and 100% reliable too. And once you've mastered shortcrust pastry why not try gluten free rough puff, choux and Danish pastries? I cover all those recipes along with the shortcrust in my 'How To Make Gluten Free Pastry' downloadable recipe book.
I also teach how to make rough puff pastry in some of my online cookery courses.
The simplest way to make pastry is in a food processor. It isn't essential but it makes it very quick and easy.
Once you've made the shortcrust pastry and lined a tart tin it's time to fill the pies with mincemeat.
I make my own mincemeat, it's super easy and tastes so much better than the shop bought stuff. However, feel free to buy it. I mean doing what you want is the best way in life.
The one that tastes best with the almond frangipane topping is this gluten free vegan mincemeat with pear and amaretto.
However if you don't fancy that then try out my clementine and cointreau one which goes particularly well in my clementine and chocolate mince pie slices.
If you follow a low FODMAP diet or hate dried fruit then try my low FODMAP mincemeat for dried fruit haters.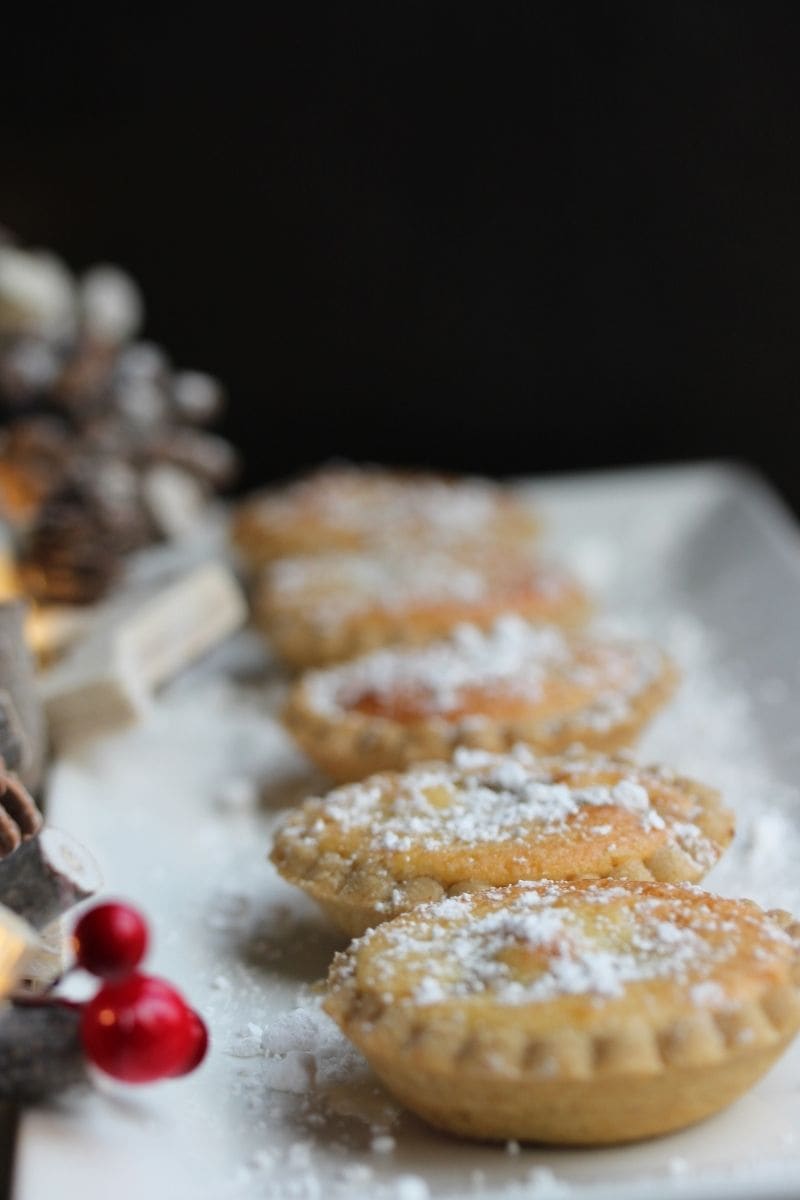 What is frangipane?
So onto the final part of these mince pies.
Of course you can just have a pastry top or a pastry star. Alternatively you could have crumble topped mince pies by using the crumble from my gluten free apple crumble.
However, for me, frangipane topped mince pies are the best.
Frangipane is an almond cake-type filling for pies and tarts. If you know what a Bakewell tart is then you know what frangipane is. It's the top part of a Bakewell tart. And it tastes amazing!
It's also very simple to make by creaming together butter (or vegan butter) with sugar, then adding egg, ground almonds (almond meal), gluten free flour and almond extract.
I find using a handheld electric whisk the easiest way to make these but you can just use a wooden spoon and 'elbow grease'!
Can you make these gluten free mince pies vegan too?
Yes, it is possible to make these mince pies suitable for those on a vegan diet.
All of my mincemeat recipes are vegan. They use coconut oil as the fat, rather than suet which is traditionally used.
However, rather than using a frangipane top to make them vegan you'll need to choose either a pastry top, or preferably, the crumble top. When making my pastry vegan it is less easy to handle which is why I recommend using the crumble topping.
Check out my other tips below…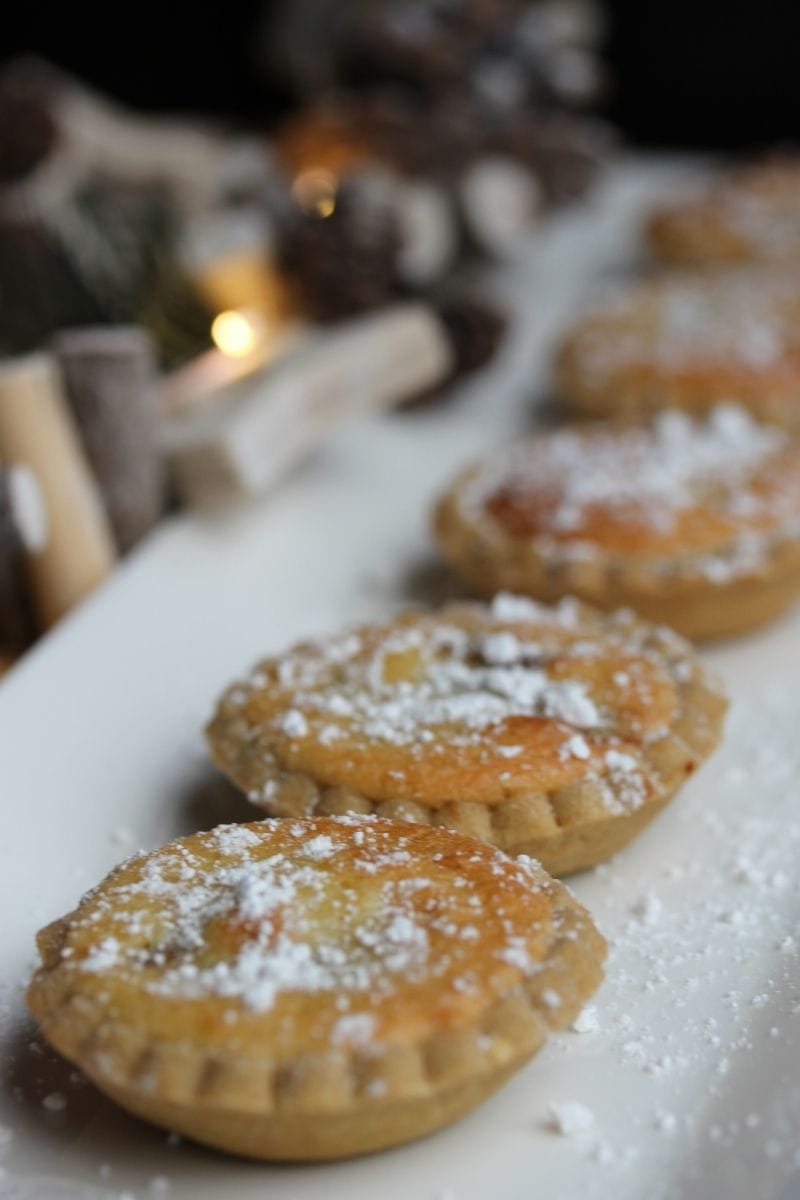 Tips for making perfect gluten free mince pies
So here are my tips for making sure you get perfect mince pies every time:
Use my gluten free flour blend. It's foolproof and can be used in all your gluten free cooking and baking. Being high in fibre and wholegrain goodness it keeps you fuller for longer, tastes amazing, and cuts down the amount of ingredients you need for gluten free baking.
If you're making the vegan version, then rather than rolling the pastry out I suggest taking a small amount of pastry paste and pressing it into your tart tin. Alternatively you could use a pastry dobber to make life easier. Or you can get a mini tart tin that includes a pastry dobber for perfect mini mince pies.
If you are making my pastry either dairy free or dairy free and egg free (vegan) then you will want to chill the pastry before using it. If you don't you'll find it very hard to work with. I suggest chilling it for around 30 minutes to make it less sticky.
Make sure you don't underbake them. You don't want a soggy bottom, or a soggy frangipane top for that matter! Bake until the frangipane is a lovely golden colour.
Try not to over-fill your mince pies with frangipane topping. If you do that you'll end up with it spilling over the top of the pie case.
If you have left over pastry roll it into a circle, place on a lined baking tray and top with mincemeat for an extra large mince pie. That's the cooks one for making the effort to make them!
What to serve with mince pies
I personally like to serve my mince pies with brandy butter.
It's super easy to make. I don't have a recipe but I just follow Mary Berry's recipe.
Alternatively you could serve with brandy cream, double cream, clotted cream, ice cream or any other naughty but nice sauce.
If your vegan you'll want to serve with a vegan ice cream or how about trying out Rebecca from Glutarama's vegan clotted cream?
How do you store them?
The simple answer is I don't!
Whenever I make these they disappear in a matter of hours so I've no need to store them.
However, they freeze very well. Just allow them to cool completely before popping them in a bag in the freezer.
Alternatively you can store them at room temperature in an airtight box for at least 5 days.
If you make the recipe I'd love to see it. Just tag me @freefromfairy across social media for a well deserved clap.
If you like this recipe get my free recipe e-book:
You'll want to save this recipe; it's a good one…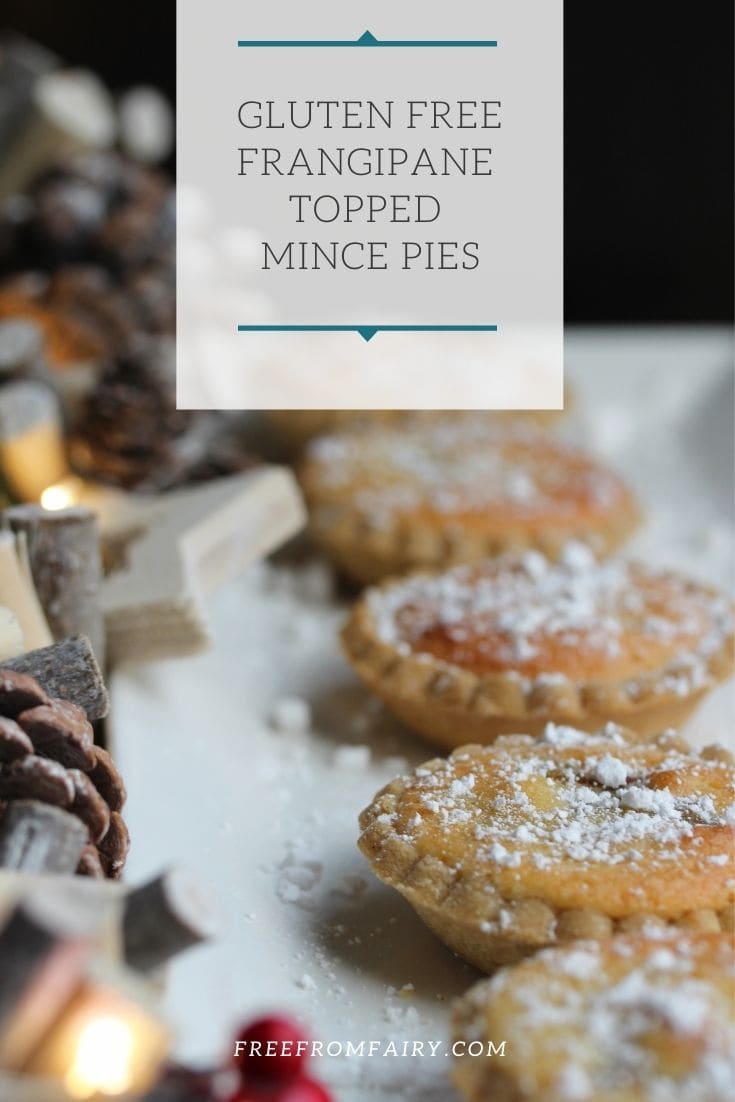 Gluten Free Mince Pie's with Frangipane Topping Recipe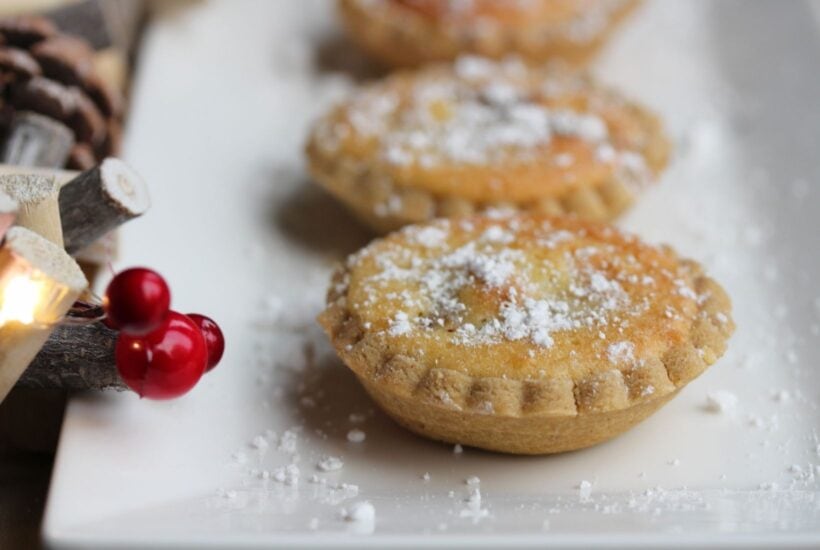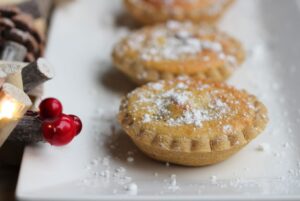 Gluten Free Mince Pies with Frangipane Topping
A gorgeous gluten free mince pie recipe that is filled with homemade pear and almond mincemeat and topped with almond frangipane cake. #glutenfree #dairyfree #soyafree #coeliac
Ingredients
For the pastry:
100

g

Butter

-

OR 50g Trex and 50g soft margarine OR 100g coconut oil (dairy free options)

25

g

Granulated sugar

1

medium

Egg

-

or 1 tbsp ground flax seeds plus 3 tbsp water
For the topping:
50

g

Butter

-

softened or margarine or coconut oil

50

g

Granulated sugar

1

medium

Egg

50

g

Ground almonds

1/4

tsp

Almond extract

120

g

Mincemeat

-

Make sure it's gluten free if you're buying it
Instructions
To make the pastry:
Place the flour, fat and sugar into a food processor and switch on. Mix until the ingredients resemble breadcrumbs. If you don't have a food processor just rub the fat into the flour and sugar mixture

Add the egg and continue to blend until a dough forms

If you're using the dairy free or dairy and egg free version, wrap the dough in foil and place in the fridge to chill for around 30 minutes. Otherwise continue to the next step

On a clean, floured surface, roll the pastry out to the thickness you like. I'm not going to tell you how thick…some people like thin pastry. I personally like it thick!

Using a cutter that is larger than the holes of your bun tin, cut circles out from the pastry and gently lower them into each hole of the tin. I use the fluted edge but you can use the straight edge if you prefer

Place approx. 1 tsp mincemeat into each case and place in the fridge while you make the frangipane topping
To make the frangipane:
Place the softened fat of choice along with the sugar in a large bowl and whisk with an electric whisk, or beat with a wooden spoon, until light and fluffy

Add all the other ingredients and beat or whisk again until combined
To finish the mince pies:
Remove the mince pies from the fridge and place approx. 1 tsp of the frangipane mix on top of the mincemeat. There is no need to spread this out because it will spread in the oven

Cook in a pre-heated oven at 200 degrees C/180 Fan/Gas 6/392 F for 15-20 minutes until the frangipane is golden coloured

Eat while warm or allow to cool before storing in an airtight container