In this article I'm going to tell you how to make gluten free pasta from scratch. I'm also going to share my easy gluten free pasta recipe. I decided to make gluten free spaghetti with mine but you could make gluten free tagliatelle, lasagna or filled pasta shapes.
This post contains Affiliate links. As an Amazon Associate I earn from qualifying purchases.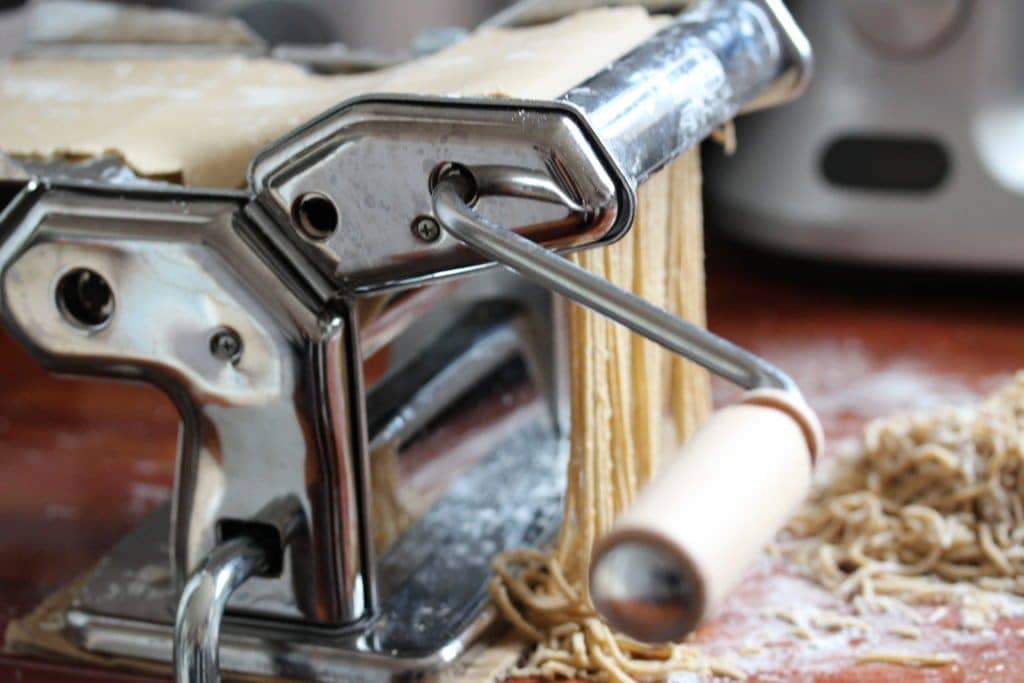 I've just had some pretty pants news.
Right now I'm not allowed to tell you what it is but suffice to say that if I swore on my blog I would be doing so right now. Equally if I could eat sugar without feeling rubbish I would be stuffing my face in the hopes of making me feel better.
Instead of that I am doing my positive self-talk and telling myself that everything will work out for the best as things always do…
Anyway, I promised on social media to share my recipe for gluten free spaghetti.
Today I actually used it in the place of egg noodles in this Chinese-style chicken noodle dish. If you do make that dish make sure you use gluten free soy sauce, or tamari.
What ingredients do you need for gluten free pasta?
Making gluten free pasta is just the same as making pasta with wheat flour. You need flour and eggs.
The only difference is that you need to add one more ingredient to replace the gluten.
I personally use ground flax seeds and psyllium husk powder in my recipe. That's because these ingredients are entirely natural, made from ground seeds which provide valuable fibre. You'll find many recipes use xanthan gum.
The choice is yours.
If you're not sure what these ingredients are then read my articles, what is psyllium husk and what is xanthan gum.
They all do the same job which is to help bind the gluten free flour together. Without these ingredients your gluten free pasta would be impossible to make because it wouldn't stick together.
As with all gluten free recipes, always stick to the recipe unless you're a very experienced cook and know how to replace ingredients.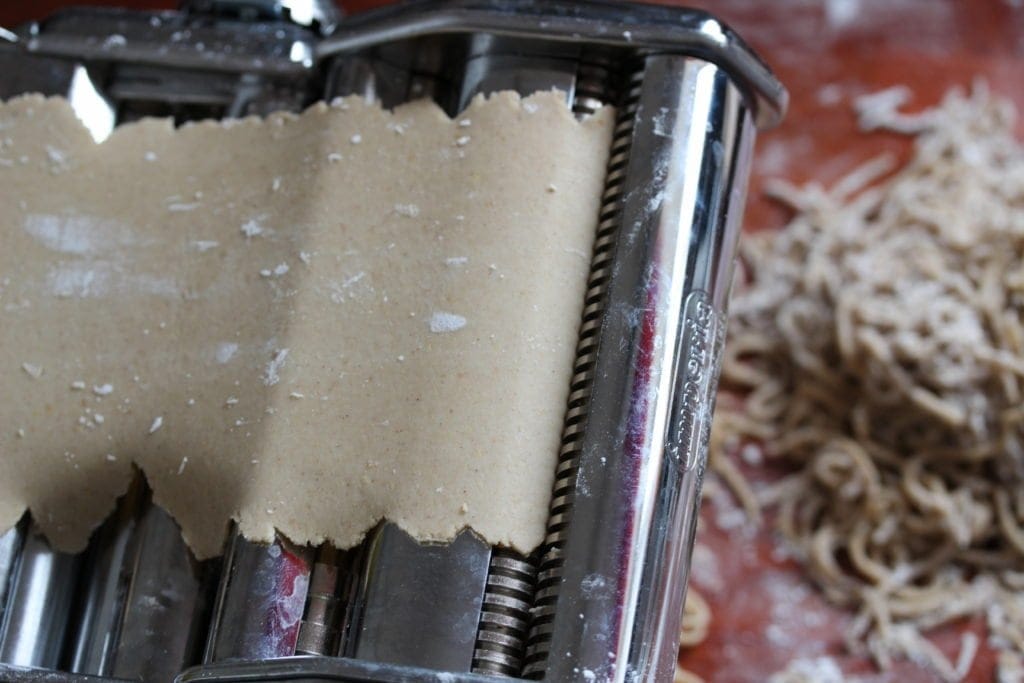 In this recipe I use my wholegrain gluten free flour blend with a little added tapioca starch. This provides you with gluten free pasta that has the most delicious flavour.
Not only that but the resistant starches found in the teff and sorghum help to make you feel full for longer.
The pasta doesn't just taste delicious but you won't be reaching for a snack an hour later like you'll find with pasta made from only white refined flours.
If you don't know anything about gluten free flour then now's your chance to learn. It's the one factor that will make or break your gluten free cooking and baking.
When you understand about gluten free flour, you'll never have a gluten free kitchen disaster again. Read my what on earth is a gluten free flour blend article and stop wasting expensive ingredients now.
How do you make gluten free pasta?
Making pasta is a little bit more time consuming that most things I post. However if you have a spare hour it is completely doable and it's very easy. Dare I say it, even therapeutic.
Firstly you need to make the pasta dough. That's a simple process of mixing the dry ingredients together in a large bowl then adding the eggs.
Now it's really important to make sure you mix the dry ingredients well. If you don't the dough will not form properly.
Once the dry ingredients are well combined make a well in the centre and crack in the eggs. I use a fork to break the eggs up then use my fingers to bring the flour into the egg mixture.
Once all the ingredients are combined you'll have a lovely soft dough. Make sure it's smooth before moving on to the next stage of rolling.
How do you roll out the pasta dough?
My sister bought me a pasta machine a few years ago which makes the job a whole lot physically easier. However, if you don't have one, don't fear.
Although it's harder work it's perfectly possible to roll the pasta dough out with a rolling pin. The key is to roll it as thinly as possible. Once it's rolled out you can flour the dough, roll it into a swiss roll shape and then slice it into strips.
I'm not sure spaghetti would be possible by hand but you can read an article about machine vs hand rolled pasta on the BBC website here.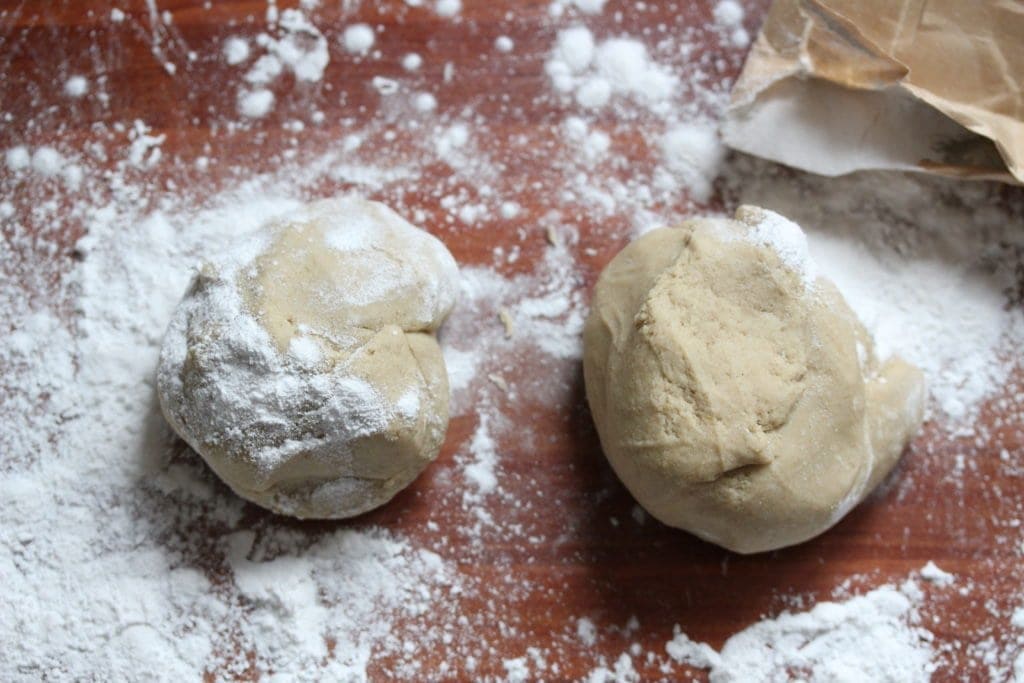 With gluten-free pasta dough there is no need to leave it to rest after making it.
Divide the mixture into two. While you're working with one piece keep the other wrapped in cling film or a damp tea towel to prevent it drying out.
Flatten the ball of pasta gently onto a floured work surface, lightly dusting both sides with tapioca starch.
Then pass the dough through the widest setting on the pasta machine 10 times, before reducing the thickness one notch at a time until it reaches the last but one thickness setting.
Avoid using the thinest setting on the machine because it will roll the dough too thinly for gluten free pasta.
Between each pass through the machine, fold the dough into three length-wise to make a shorter, thicker piece of dough to thread through the machine. Lightly dust with tapioca starch and pass through the machine.
When you get to the last but one thickness setting you should have one long, thin piece of pasta. At this point you could cut it into lasagna sheets. Alternatively you can cut it into shapes.
If you were doing this by hand you would need to flour your surface and dough really well and roll the dough out to as thin as possible. Flour the dough liberally before rolling the sheet up like a swiss roll and cutting thin strips.
How do you shape gluten free pasta?
My pasta machine has an attachment to make spaghetti or tagliatelle.
Once the pasta is as thin as possible it's a simple process of feeding the thin sheet through the relevant cutter.
Alternatively you could cut out shapes for filled pasta like my fresh gluten free filled pasta recipe.
The final step is to thoroughly flour the pasta shapes to prevent them sticking together.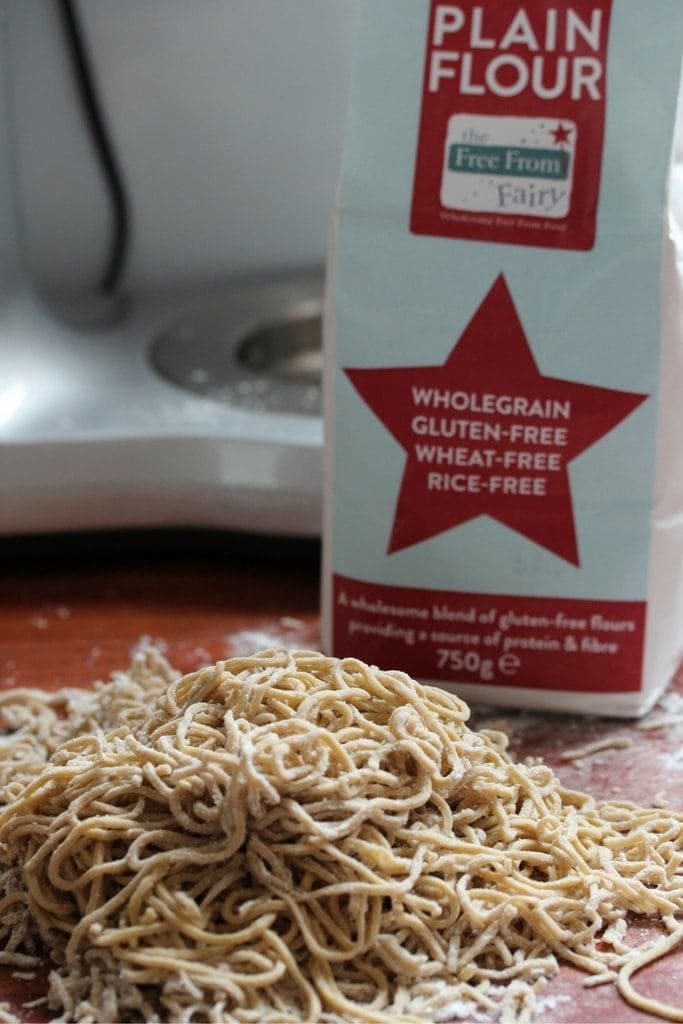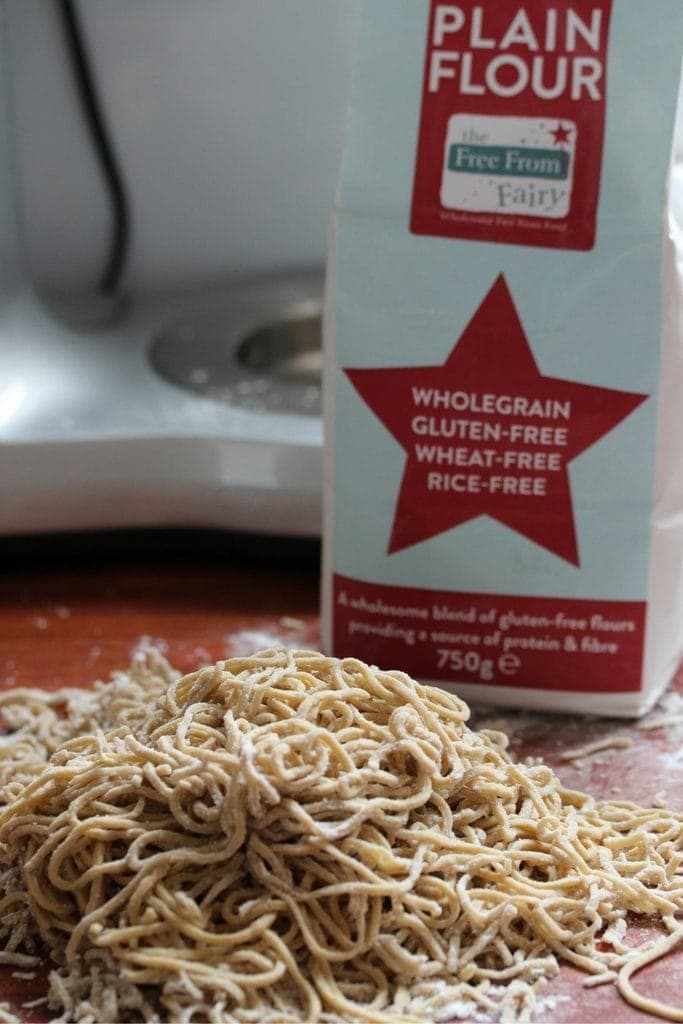 How long does fresh pasta keep?
I keep my pasta in an airtight container in the fridge until I want to cook it.
Cooking it is simple. All you need is a pot of boiling water with a drizzle of olive oil. Add the pasta and cook for around 3 minutes.
Making this pasta with my wholegrain flour blend means you get a top quality pasta full of nutrients unlike most the bought varieties.
It's perfect served with my special gluten free spaghetti bolognese.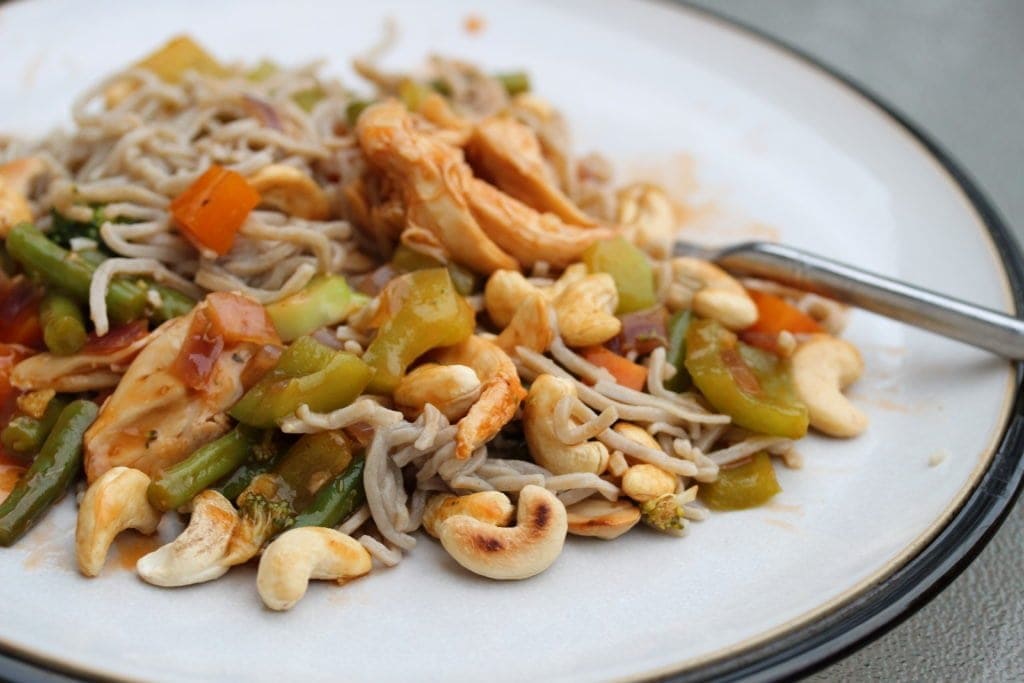 If you like this recipe then take a moment to sign up to my weekly newsletter. You'll get lots of gluten free recipe inspiration along with a free recipe e-book.
Make sure you don't lose this pasta recipe by saving it to Pinterest: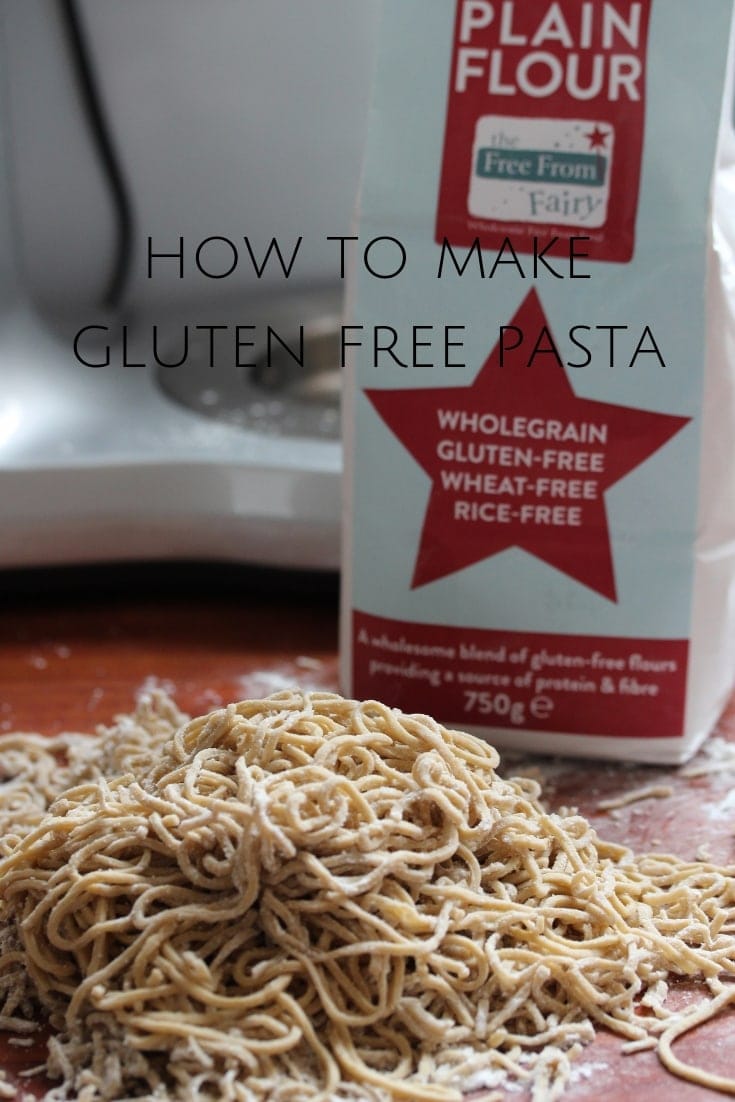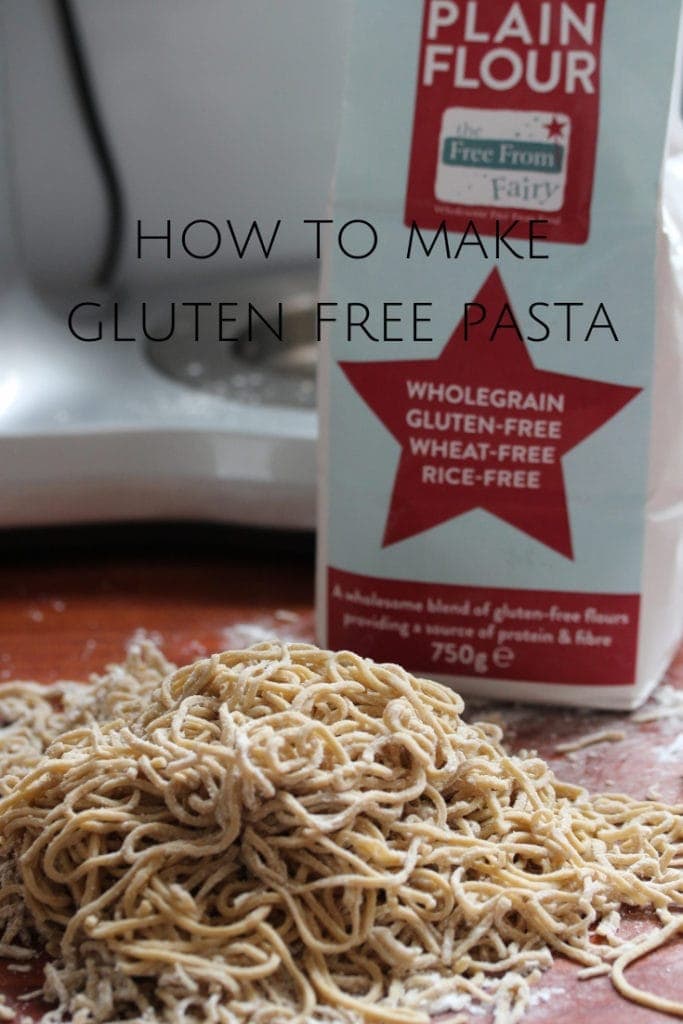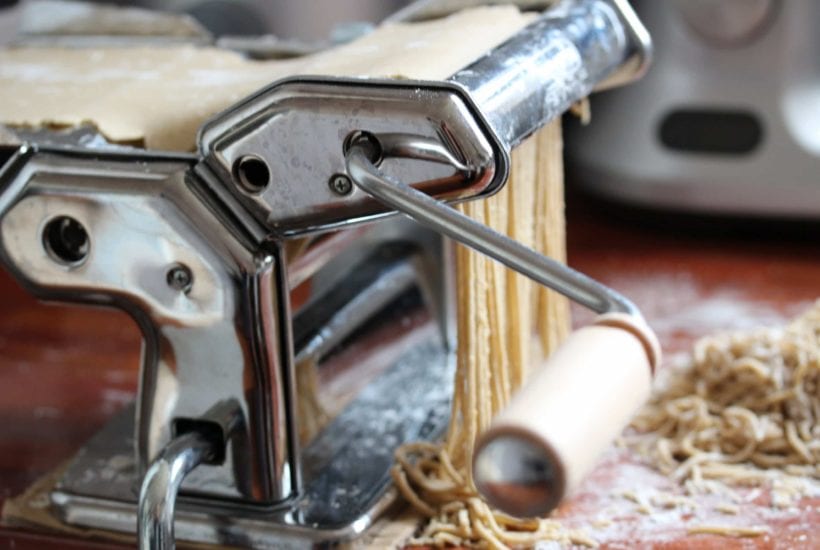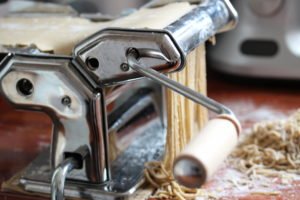 Handmade Wholegrain Gluten-Free Spaghetti or tagliatelle
Gluten-free, Dairy-free, Nut-free, Soya-free, Sugar-free
Ingredients
120

g

Plain Free From Fairy flour

25

g

tapioca starch plus extra for dusting

1

tsp

ground flax seeds

1

tsp

psyllium powder -

or 2 tsp xanthan

2

medium free range eggs

-

whisked
Instructions
Place the dry ingredients into a large bowl and whisk well to combine

Add the eggs and bring the mixture together into a dough. I do this with a knife to begin with and then use my hands

Knead the dough in the bowl until it is smooth

Divide the dough in half and place one piece on a floured work surface. Press until flat and then feed through the pasta machine 10 times on the widest setting, folding it neatly between each pass

Once the pasta is coming through in a sheet reduce the setting by one notch and pass through again until you reach the last but one setting at which point you can feed the sheet through the desired cutter

You are likely to need extra tapioca flour to lightly cover the dough before passing it through the machine each time

If creating the pasta by hand, follow the instructions in the blog post, rolling the dough as thinly as possible, then rolling it up into a swiss roll shape and cutting narrow strips

Place the cut pasta in a pile of tapioca starch and coat well to prevent sticking

Store in an airtight container in the fridge until ready to use

Alternatively cook immediately in a pot of boiling, lightly salted water with a teaspoon of oil for approx. 3 minutes or until cooked to your desired consistency.